Beginners Guide to Winter Paddling
A few tips to enjoy winter paddling from an avid year round kayaker.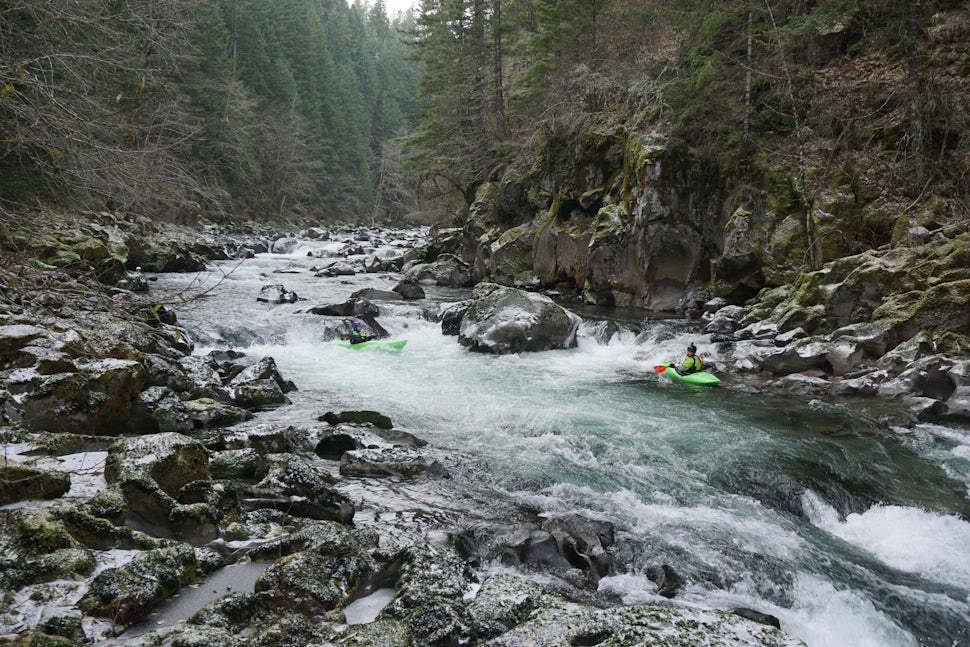 Winter has come but you've just gotten into paddling. Or you're lookiing to start. Either way don't let the cold stop you! I've been paddling in Pacific Northwest for 10 years and it's a winter paddlers paradise. I've listed some tips and tricks to help you get out and enjoy the colder weather. It could be your first time or one thousandth hopefully these well help keep you warm dry and enjoying the fresh air and water.
Outerwear
If the water temperature and air temperature are close together you'll want a drysuit or immersion wear. These are specially designed articles of clothing that are best suited for users who expect to be paddling in winter climates or cold water. Imagine a water proof body suit. These are primarily intended for paddlers who often paddle in climates and situations where exposure extremely cold water for prolonged periods of time is unavoidable or sought after. For the recreational paddler they can be a boon if your region is prone to colder winters and you still want to, and can, get out to enjoy the water.
The argument for good outerwear is the same as wearing a good rain coat in a storm or a good parka on the mountain -You can always cool down but it is very difficult to warm back up. ]When you paddle in the winter paying attention to the relationship between the water temperature and the air temperature is important. For example if the water temperature is mid 40 F and the air temp is in the 50 F it would be highly advisable to wear immersion or dry wear to control this risk of hypothermia if you have an out of boat experience. When the two are not seperated by more than 20-30 degrees it is an important safety consideration.
Realistically immersion wear can prevent cold shock at almost any air temp. So dress warmer than you expect to and enjoy a dip if you do overheat.
For more temperate climates and water temperatures, a good rain coat and pants will take you far. Make sure to pull the rainpants up as high as possible before putting your jacket and life vest on. For sit on top kayaks or stand up apddle boards this will help stop water slipping up the back end when you sit down in the craft.
Underneath your waterproof outer layers we'll be using a series of thin and thick garmets to preserve warmth.
Some suggestions for layering
Base layers are a set of clothing we were closest to our skin to improve and maintain warmth. Merino wool or non cotton athletic wear are great base layer options. Capilene layers are also great choice. In general most athletic wear that is synthetic or a polyester nylon blend will have sufficient warmth when layered together to keep you enjoying your paddling excursion. Avoid cotton in cool to cold climates as it is a negative insulator (it sucks warmth away from you).
Over those layers you may want a thicker heavyweight layer like a fleece jacket, vest or pants. Wool socks will round out your fit.
Shoes
There are a lot of paddling specific shoes out there. Astral Designs footwear makes a broad range of shoes that are great in the aquatic environment. Hoka also makes a shoe that crosses over well as a great adventure kayakers shoe.
In general most recreational paddlers will enjoy a tennis shoe or closed toe shoe of some sort. You want it to drain water away from your feet to presernve warmth, be able to protect your toes from stubbing against rocks and have enough support that you can walk if you need to wade or pull your craft around an obstacle.

Sandals can be great too just be mindful of the venue you're choosing to use them in. Perhaps avoid them if you need to travel any longer distance on foot, clamber around, generally move quickly or not stub your toe.
Bring two pairs of shoes- one for paddling and one for after paddling. Dry feet make for happy paddlers.
Small dry bag
This is where you'll stow your snacks,water, sunscreen, book to read on that island you planned on stopping on. Perhaps your camera or phone are in here as well. Make sure the bag is completely watertight and sealed each time you access it to protect such expensive and integral devices. If you want to reference what an avid adventure paddler carries Watershed drybags are what I keep my satellite device and DSLR camera in. As well as snacks, first aid, and a book at times.
Extra Clothes
Few of us want to have an out of boat experience. But we should plan for it. Whether you're going on the lake or the whitewater river having a set of dry clothes for the end of the day can be change the whole narrative of a day of mishaps. Stack the deck in your favor and make sure that when you're driving home at the end of the day you're warm. Bring a small gym bag with dry undergarments, socks, a full outfit with a hat and any treat you think you may enjoy.

A thermos or something to keep a warm beverage in.

It's going to be cold why not take the edge off with some cocoa, coffee or tea. Be midndful to bring and drink water too as you can still get dehydrated while paddling all day. The hot beverage or water container can stay in your vehicle if it is a shorter trip. I would recommend bringing it for anything longer than an hour. Just for comforts sake.
Ok you're ready to go kayaking!
Wait...How? Aren't we missing some things? Yes but let's talk about that!
The other items you'll need to get out and paddle are going to be a kayak, paddle, and personal flotation device. These three crucial items can all be rented from local outfitters, purchased second hand, or bought new from local or online retailers.
I would recommend starting out by renting these three items. This will allow you to try before you buy and let you test out different kayaks and stand up paddle boards till you find the match for you.
Life Jacket aka PFD (person flotation device)
The life jacket is the dividing line between recreating responsibly and taking an unnecessary risk. There are numerous options that cross abilities, body types and activities so there are few reasons not to have one available on your next paddling trip. For flat water and lakes there are low profile options, for stand up paddle boarding there are waist belt options, and there are even fishing, rafting, and whitewater specific options. The purpose of the PFD is to provide flotation should you fall in the water unexpectedly. Simply saying you're not going to fall in doesn't cut it for responsible recreation and many parks and boat launches provide generic PFD's for just this reason. Stay safe, stay responsible and bring that life jacket.
The paddle
Most rental outfitters will provide a paddle with a kayak rental package. it will be sized based on your height and the type of craft you'll be paddling. Paddles are sized metrically. For flatwater and recreational touring (that's paddling around lakes and slow moving bodies of water) a mid length to longer paddle is preferred (200-220cm) while for whitewater and some types of sea kayaking paddles may be shorter (194cm-204cm). Again sizing is dependent upon the user and the application. A longer paddle does allow more leverage but can contribute to shoulder injuries if used incorrectly. Talk with your local kayak shop staff as you rent or buy to find out what is best for your adventures.
The kayak
Now for the last piece. The kayak!
It's always great to start out any wider kayak. A wider platform means more stability especially if you're new to the sport. Stability can give an extra boost of confidence and that is a great space to be in when you're just learning to paddle. While a wider kayak may not be as maneuverable as shorter narrower options the pros generally outweigh the cons. The stable platform will allow you to comfortably work on fundamentals as well as enjoy your outings more quickly. That's a great return on your time investment. Again talking to local outfitters to find the right craft for your desired experience is key. Even if you buy your craft second hand.
Important Things to Consider
Finding a spot to paddle
Finding a spot to put in (that means get on the water).You want to find a reasonably deep slow moving body of water. That may be a lake or a river or local pond. Check online! Your city may have regional resources available to you or look at social media and see if there is a local paddling club in your area.
Finding a Group to Paddle With
While you will be in your own craft paddling is about community. We get out on the water together* and share the experience and look out for one another. Many cities have local paddling groups whether they use email lists, facebook, meetup or other social media. Talking to staff at local kayak shops, checking with the list of clubs on the American Canoe Association or asking that friend who paddles to take you out are all great ways to find a group to paddle with.
*There are definitely reasons and perks to paddling solo as well but it is important to make sure to make responsible choices and practice safe planning to ensure you make it back to the car.
Transport
One of the perks of renting from an outfitter that has an on the water location is you won't have to do any of the transport yourself. Craft can be broughtt a short distance from the shop to the water.
If you don't rent and are transporting your craft yourself at minimum invest in a couple towels and two cam straps. These straps are a little easier to use than ratchet straps and pack down smaller.
Be warned - strapping craft to your roof without the appropriate rack system or padding can damage your roof and you run the risk of not strapping your boat down correctly.
There are a number of online tutorials for correctly tying down water craft. Also purchasing some foam blocks or pool noodles in the interim are also great ideas if your car doesn't have racks ready. Make sure to strap down the boat at both the front and the back and if it's long enough some state regulations require that you add a bow and stern line.
Alternatively there are options for inflatable kayaks and paddleboards. These could solve many of the storage and transport issues for those with less space in vehicles and at home. Some outfitters rent these craft, make sure to check with your local paddling shops!
Wow that's a lot! But now you're ready to go kayaking!
We want to acknowledge and thank the past, present, and future generations of all Native Nations and Indigenous Peoples whose ancestral lands we travel, explore, and play on. Always practice Leave No Trace ethics on your adventures and follow local regulations. Please explore responsibly!
Do you love the outdoors?
Yep, us too. That's why we send you the best local adventures, stories, and expert advice, right to your inbox.