The S'more-O-Scope
Your s'mores preferences say more about you than you might have realized.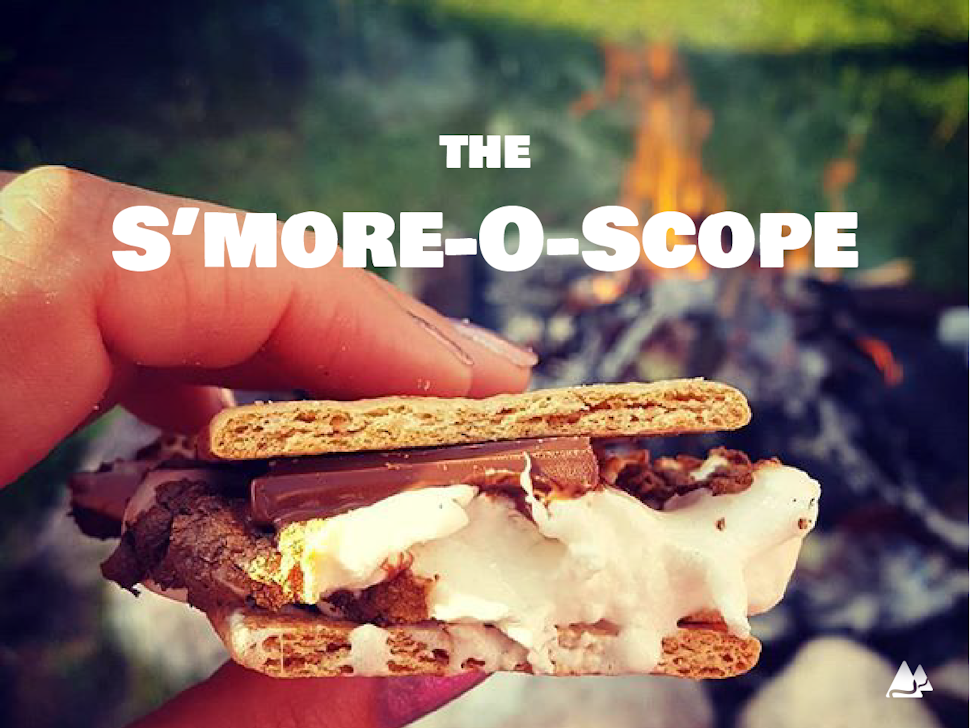 These are s'mores stuff, okay? Now pay attention.
I'm pretty sure every kid who grew up in the 90s can quote Ham Porter's s'more lesson at the drop of a hat. "You're killing me, smalls! First, you take the graham. You stick the chocolate on the graham. Then, you roast the mallow."
What Porter didn't know was in addition to being a tasty campfire treat, s'mores provide a window into the unconscious mind and can say a lot more about your personality than you may have realized. Read on to discover what your s'mores preferences say about you.
PLAIN S'MORE
You live by the axiom "don't fix what ain't broke." You appreciate the simple things in life, and it doesn't take much to give you a deep sense of satisfaction. You rarely venture out of your comfort zone and prefer trying new experiences in the comfort and safety of a group of familiar friends. Don't be afraid to branch out and try something new on your own! You can always return to the familiar if you don't enjoy it.
CINNAMON GRAHAM S'MORE
Ah, the improviser. You're light on your feet and can change directions quickly, but once you have your mind set on a goal there is no distracting you. You wanted s'mores but all you had in the pantry were cinnamon grahams. There's a solid chance you aren't using fresh mallows either, but these setbacks don't worry you. At the end of the day, you have a s'more when others would not. Never lose sight of your determination, but be careful your last-minute solutions aren't enabling laziness!
PEANUT BUTTER S'MORE
You make the most out of every opportunity you're given, never shying away from a chance to make an experience more luxurious. You are often willing to put in the extra bit of work required to take something from good to great. You appreciate inventive design and probably have opinions on thread count. It may be difficult for you to fully enjoy experiences which you feel could have been improved with a little extra work, but you are learning to take these situations as opportunities for fostering your own gratitude. You should also consider storing an extra jar of peanut butter in your glove compartment at all times.
PEANUT BUTTER CUP S'MORE
People are drawn to you for your youthful spirit and vibrant outlook on life. You are always thinking outside the box, leaving your friends constantly asking themselves "why didn't I think of that?" You're down to try anything and never hold back when expressing your zeal for life. Your "yes, and" attitude is your most sought after trait. There are two peanut butter cups in every package for a reason. Sometimes that reason is to share, and sometimes that reason is to have two peanut butter cup s'mores all to yourself. Be aware of your propensity to choose one option over the other repeatedly.
BURNED MALLOW S'MORE
You are a no-nonsense, goal-driven individual. You're rarely late, never miss a deadline, and can't put off to tomorrow what you could finish today. Your internal drive is your greatest strength, but don't forget to slow down and smell the roses every now and then. Some of the most important things in life have no deadline and are best enjoyed slowly. Learning to balance your need for efficiency with your need for rejuvenation will prove to be your greatest challenge, but also carries the greatest reward.
FANCY CHOCOLATE S'MORE
Why settle for big-chocolate when there are so many other independent chocolatiers out there? You are a questioner, never accepting an answer at face value. You challenge presumptions and leave no stone unturned. Your sense of excellence can sometimes make it difficult to relate to those who don't see the value in going the extra mile. Remain humble, and you will surely be able to guide others toward s'more enlightenment. If you lose yourself to arrogance, however, you will surely be left eating your fancy chocolate s'more alone.
THE S'MORE NAYSAYER
Double check that you have a pulse and are still breathing. It is possible you are dead.
We want to acknowledge and thank the past, present, and future generations of all Native Nations and Indigenous Peoples whose ancestral lands we travel, explore, and play on. Always practice Leave No Trace ethics on your adventures and follow local regulations. Please explore responsibly!
Do you love the outdoors?
Yep, us too. That's why we send you the best local adventures, stories, and expert advice, right to your inbox.