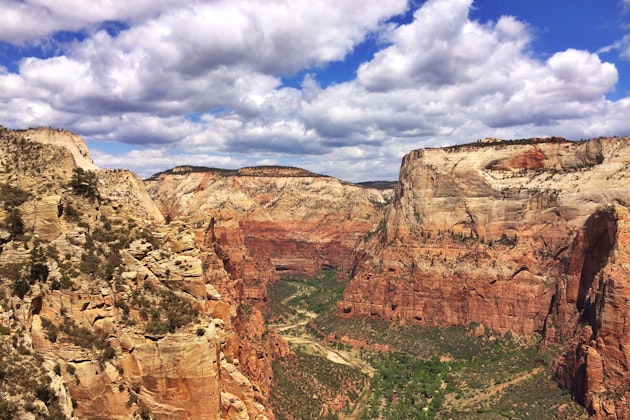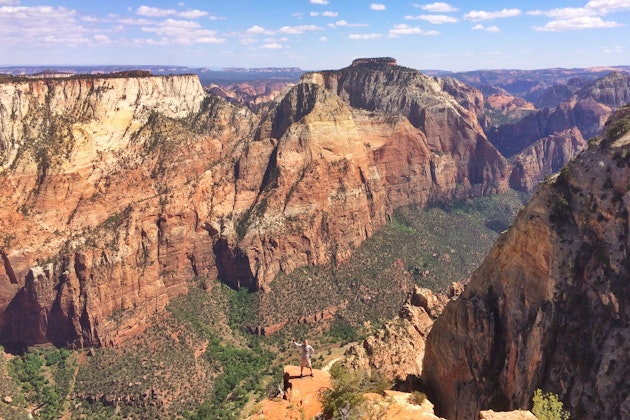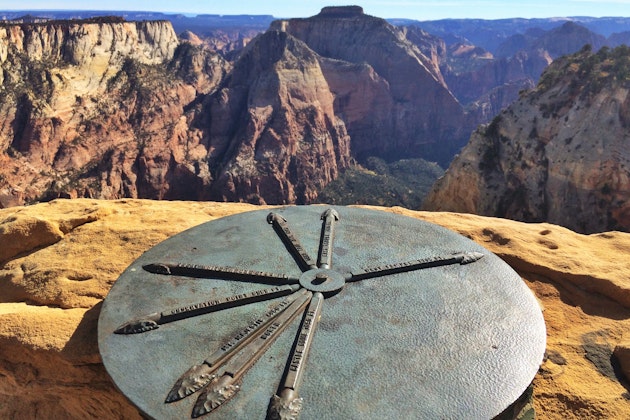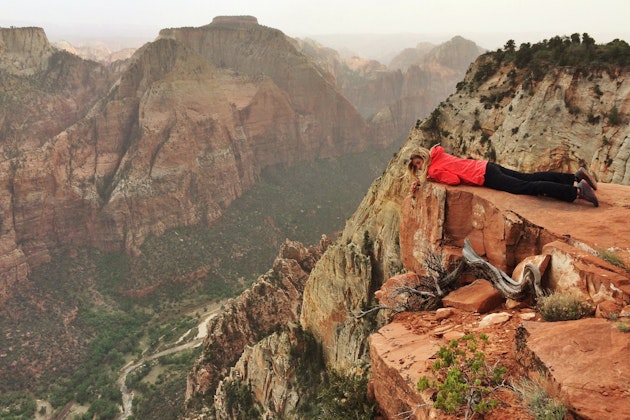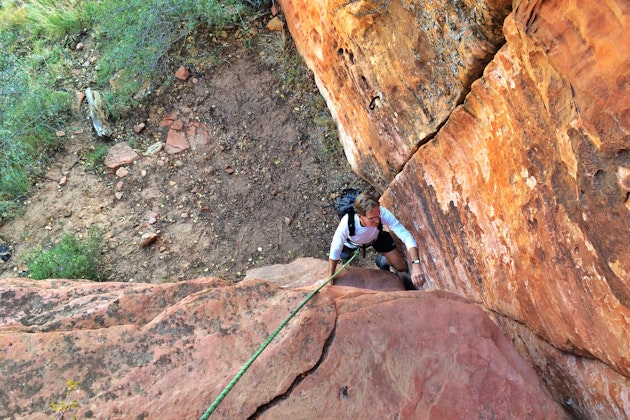 Added by Michael Whitman
Spectacular location overlooking the Zion Lodge, in the heart of Zion National Park. Think Angels Landing (a 1,488 ft. tall rock formation a few miles up the Virgin River), but higher and more rugged, with better views and no people. The first river-to-rim trail ever established in the park (currently abandoned and unmaintained). Seldom travelled; expect to see no one else! Adventurous hiking and scrambling, with some route-finding required and wild exposure!
Begin by taking the shuttle to the Zion Lodge, where you can fill up on water for the day of steep hiking and scrambling ahead. Walk as if to the Emerald Pools, but after crossing the bridge immediately take a sharp left. Several hundred feet down the trail you will notice a closed and unmaintained path leading up and to your right. Take this trail and follow it through a steeply eroded section until it heads back toward the bridge, parallel to the river trail but higher up the slope. In less than a quarter mile you will break out from the trees and encounter an old information sign detailing how the red walls of the Zion Canyon collapse into arches over time.
At this point, you are at a large left hand bend in the trail as it turns and follows the Emerald Pools canyon. Here, the face of Lady Mountain towers directly above you. Head straight upwards through a bit of bushwhacking and steep loose terrain until you encounter a faint use trail. Continue on this trail as it switchbacks toward the closest point in the cliff and dead ends at a large cactus. Congratulations! You made it to the start of the climb and through the most difficult route finding of the day.
From the cactus at the base of the cliff, the "trail" climbs very steeply toward the summit. It is marked with numerous different tell-tail signs including yellow and red spray paint, some cairns (man-made piles of stones), faint steps carved in the rock, and old hand rail bolts that were cut off when the trail was abandoned many decades ago. Follow these various markers upwards, paying close attention to them, as they will help you find your route during the descent.
The vast majority of the trail is classified as a scramble - there is exposure similar to Angels Landing at times - but if you are careful and move slowly, you won't have any difficulty. However, there are two short sections that are steeper and more like actual rock climbing. Those who are completely unfamiliar with climbing may find these sections scary and dangerous, thus if you have a non climber in your group it would be useful to bring a short rope, harnesses, and a belay/rappel device such as an ATC. Although quite short, both climbing sections are harder on the way down, so think carefully before ascending past them if you are not carrying a rope!
Now that you've past the two sections of rock climbing, all you have to do it head toward the top of the canyon. When you arrive at the canyon rim the trail turns right and is easy to follow. Enjoy the stunning views in all directions and the less steep hiking to the summit, where there is a cool metal plaque with arrows pointing out various Zion landmarks.
Tip: scramble down from the summit in the direction of the Zion Lodge and walk out on the large red diving board rock. Take a careful look over the edge at about 2000 ft of vertigo-inducing exposure!
Once you've given your legs time to recover, simply retrace your steps to the base of the cliff; the descent is actually easier than you probably imagined on your way up. If you still have a bit of energy once you arrive at the old information sign, consider taking a left (as you look at the lodge) instead of a right. This alternate route adds a bit of distance but it will deliver you to the upper Emerald Pool, and from there you can take the paved trail back to the river and the Zion Lodge. This is a strenuous route: expect the trip to take a full day!
Pack List
Hiking day pack with food and lots of water
Shoes with good tread and grippy soles
Camera
First aid kit
Suitable clothing
If you think your group might need climbing gear to get up or down the short, steep sections, bring a 20 meter rope, harnesses, ATCs, and several locking carabiners

DOPE!
super rad hike/climb/scramble/bushwhack/adventure. lots of fun and a cool way to avoid the crowds and escape from the sheeple. the middle emerald pools trail is closed because of landslides, but check with rangers and they will let you know if you can head up lady mountain.

Activities:
Photography, Hiking, Rock Climbing
Are we missing something?
Suggest an edit
More Adventures Nearby

Hike Mount Ellen in Utah's Henry Mountains
Utah / Mount Ellen Peak Trail
Mount Ellen is considered an Ultra Prominent Peak. What's that you may ask? Well, Ultra Prominent Peaks are determined by how high the summit rises above its surroundings.

Camp at McMillan Springs In The Henry Mountains
Utah / McMillan Springs Campground
McMillan Springs Campground is south of Hanksville, Utah and within the Henry Mountains, which run north and south between Canyonlands, and Capitol Reef National Parks.