Top Adventures in Lakeville
The trailhead for this hike is easy to find.  Journey to Moosehorn NWR outside of Calais in Maine, and follow the well marked signage along Charlotte road to Headquarters Road in the Baring division part of the park.  Follow the signs to the Headq...
To access the boardwalk you must park in the Bangor City Forest. From closest parking lot in Bangor its about .25 mile walk to the entrance. Take the trail on the far right of parking. You will eventually come across a small station with an inform...
Browse All Adventures
Lakeville camping, hotels, and more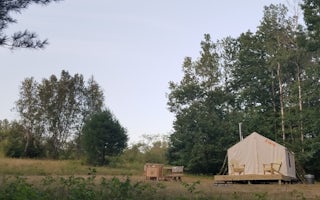 Aurora, Maine
We offer a super-private campsite nestled on the edge of a tree line in a large meadow. Our farm has a 64-acre pond for swimming, kayakin...
From $100/night
More Lodging Options