Road Trip Canada - The Big One - 26 Days of Genuine Adventure
Starting From
$1,532/person
Add your business today to reach The Outbound's audience of adventurous travelers.
Experience it all on a group road trip adventure across Canada with other awesome 18-39 year olds. The great outdoors, national parks, cultural centers, epic cities and quaint towns.

Operated by:
Our passion is providing amazing road trip adventure experiences across Canada. Trips that make you feel that you are travelling with a group of friends on a road trip. We'...
Additional Information
You'll trek across Ontario, Quebec, New Brunswick, Nova Scotia and PEI. Explore the Gaspesie, Algonquin Park, Bay of Fundy the Cabot Trail and PEI and much much more. Wander the streets of Toronto, Montreal, Ottawa, Quebec City, Halifax and Charlottetown.
You'll be able to get up to lots of awesome things including:
Canoe majestic lakes in Algonquin Park followed by evening bonfires and stargazingWhale watch by kayak, shore or boat
Exploring the capital after a day rafting the mighty Ottawa River
Explore the cavernous streets of old-school Quebec City. Rock climb up close to the massive Canyon Sainte-Anne (a little bit about it here, or check our Out Here Travel facebook videos)
Eat a generous portion of poutine and be entertained at  a boîte de chansonEnjoy your time along the St Laurence River in the Quebec Maritimes Cote Nord
Witness 50+ foot vertical tidal changes at the powerful Bay of FundyWander the streets of Halifax, visit their beautiful shorelines including Peggy's Cove and lots of surprises. 
Enjoy power hour or a murder mug at the Split Crow, or listen to tunes at the Triangle till the wee hours
Hike the Skyline trail to see wildlife and witness a magical sunset
Drive and hike in Cape Breton National ParkVisit the birthplace of Canada
Go sand dune hiking at Greenwich, swimming at the singing sands in Basin Head, as well as North Cape and East Cape beaches - the best beaches in the world.Stuff your face with potatoes and seafood throughout the Maritimes
Experience Gaspesie. A little-known treasure, not least for its spectacular Gaspesie national park and festival hostel the Sea Shack
And lots lots lots lots lots (did we say lots?) lots lots lots more
How The Canadian Adventure trips work
Ample time in each place, enjoy 2-3 nights in each location
All the essentials are setup for you, while you have the flexibility in doing what you enjoy.
Genuine Experiences. We help you experience the great stuff. That's what we care about. We don't take cuts from activity providers, or get paid to stop at a tourist traps. Awesome stuff only. Read more about trip experiences here.
Canadian style accommodation including rustic lodges, yurts, hostels and beyond
Easy access to many of our amazing national parks
Comfortable travel – a vehicle that you can stretch out on
Adventure activities – including rafting, zip-lining, rock climbing / via ferrata. We only recommend the great ones.
By Canadians that have experienced all this and more first hand. 
For 18-39 year olds 
Off-Beat destinations
AMPLE TIME IN EACH PLACE
We believe you should have enough time to experience each place properly. If you rush, you might miss the good stuff. This is why we spend 2-3 nights in just about every region or city.  Canada is big, and the majority of your time shouldn't be moving from place to place, but rather we believe that you should be experiencing it.

There are certain places along the route where we spend one night, to help with logistics. drive-times, and when there is only a bit to do in a place. This way, you get more time in the better spots.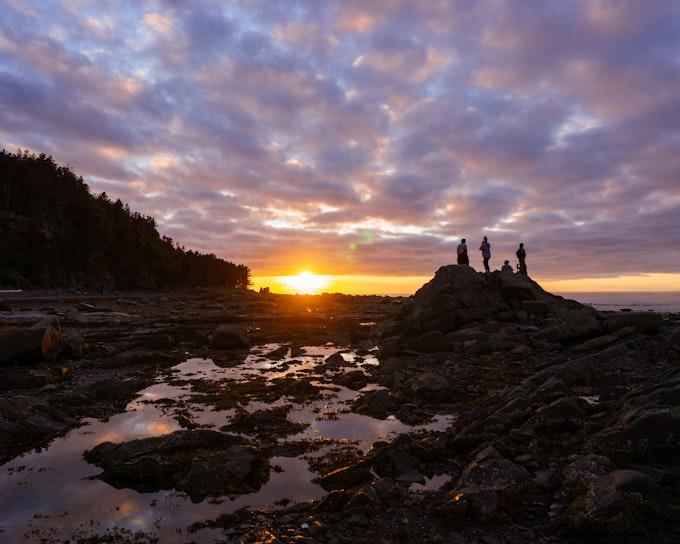 FLEXIBILITY IN WHAT YOU GET UP TO
Most days, the bus will head out to national parks, activity spots and other places to explore. This is because in some places we visit, the best stuff requires a drive. 
You have lots of control over what you get up to on the trip, so hop on the bus for activities, or just do your own thing. Most people come along for the journey.

For example, when we are in Gaspesie, you can head out with the bus to the national park and go hiking, hang out at the lodge and rent a paddleboard, or you can just relax and read a book by the river.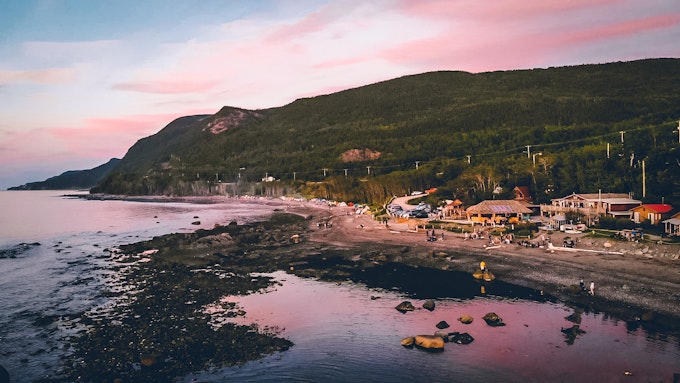 CANADIAN STYLE ACCOMMODATIONS
We stay in hostels, rustic lodges, and occasionally front-country campgrounds. We choose our locations carefully so that you are located nearby to the best out here. If you have a very strong preference to avoid tent camping, please reach out and we will advise which trips you should choose (or vice-versa).
We have everything booked for you. If you want to choose a different type of accommodation, or have specific needs, just let us know when you book and we will advise you what is possible. In that case you will be paying the provider directly.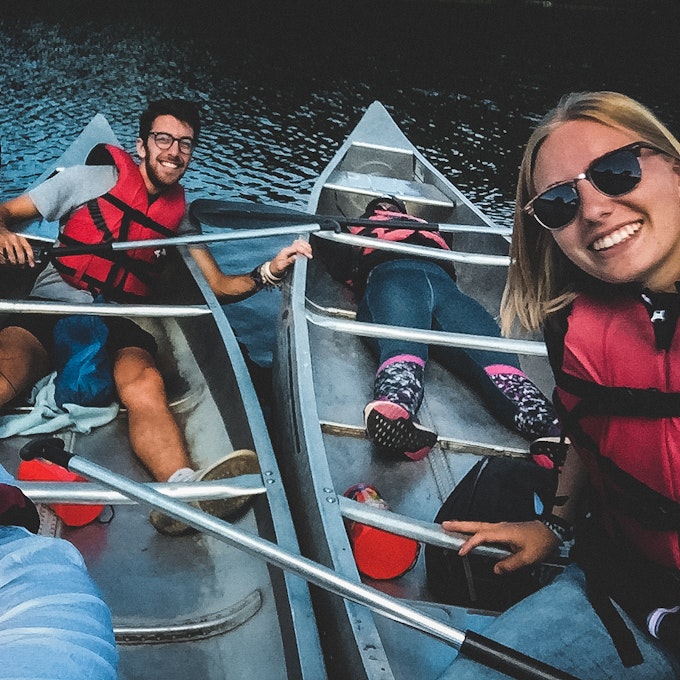 COMFORTABLE TRAVEL AND TRANSPORT

Our vehicles have ample space for you to stand up and stretch out. The seats recline, and also slide horizontally to provide even more room
There will be frequent restroom and snack stops along the way. There is not a bathroom on the bus - trust us, this is a good thing.
We believe in listening to great tunes on the road, and have a soundsystem to match. Our drivers will be ready to DJ some classic Canadian tunes, but you'll also have the opportunity to share your own favourite playlists.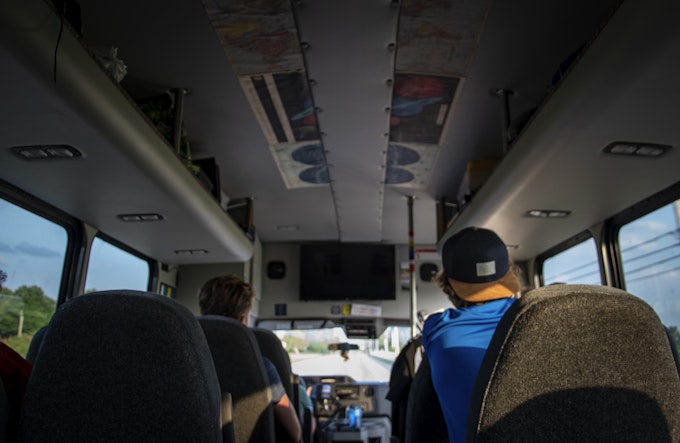 LEARN A LOT MORE AT OUR MAIN SITE ABOUT ROAD TRIPPING CANADA OUT HERE TRAVEL

Interested in travelling on your own? We have a few blogs posts to help you out!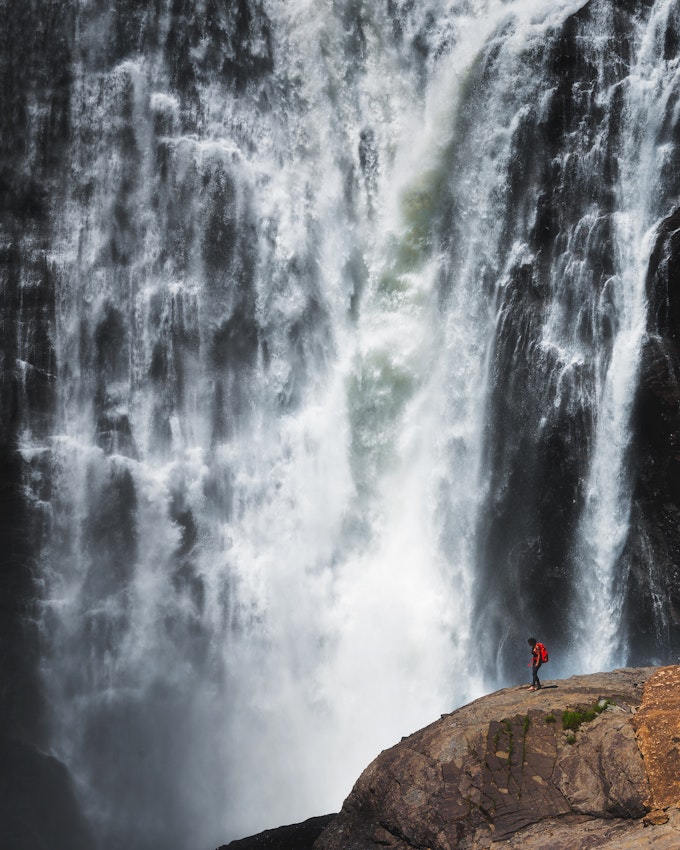 Travel, paddle and adventure on!