The Ring Road
An eight day road trip around Highway 1 in Iceland, more commonly known as The Ring Road.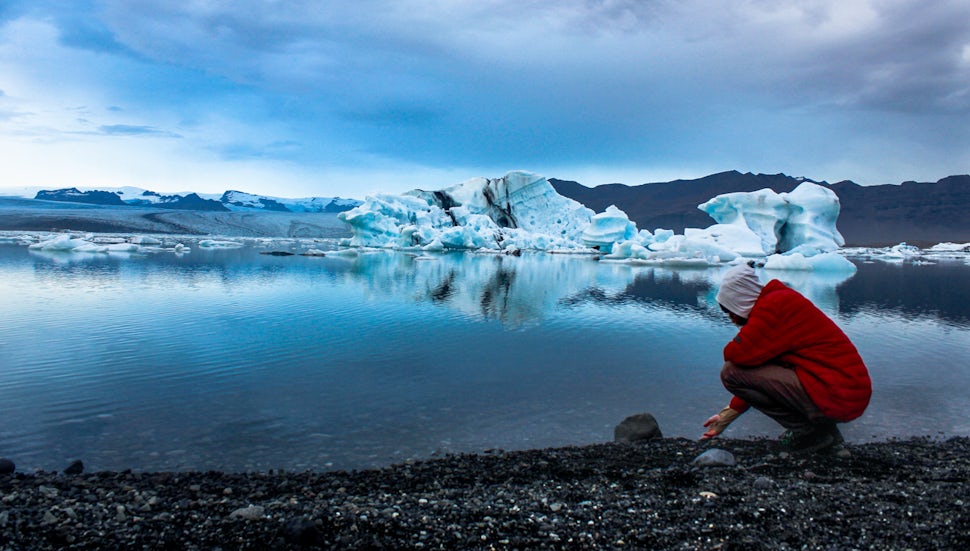 We landed in Reykjavik in the early morning before anything was open. Our camper van wasn't available for pick up until 12PM so we killed a few hours at the airport on free wifi and playing hacky sack. Around 11AM we boarded a bus by Gray Line Iceland that would get as close to Kuku Campers as possible.
After picking up our camper van, we started driving south along Highway 1 (aka "The Ring Road") towards Þingvellir National Park. Our plan was to travel around the island counterclockwise, starting in the southern region. We arrived at the national park in about an hour. Þingvellir is a rift valley, a valley formed by two tectonic plates diverging from each other. This site is special because it marks the geological border between 2 continents; one plate is part of North America, while the other is part of Eurasia.
We explored for a couple hours until it was time for us to find a spot to camp. We tried camping on the side of the road, but a very friendly police officer knocked on the window and informed us that wasn't allowed. We ended up sleeping at a campground just outside the national park.
Views from our first campsite.

The next day we woke up late, jet lagged from our journey. Our first stop of the day was Geysir, an active geyser. This is the OG (Original Geysir), because the word "geyser" came from this one. The smell of sulfur and sight of selfie sticks told us we were close. After watching a few eruptions we were back on the road in search of Gullfoss, one of Iceland's most popular waterfalls.
We arrived at the entrance area to Gullfoss in the late afternoon. There was a short walkway down a canyon, leading to the powerful 105ft waterfall. We stood in awe at this impressive display of nature's force. After about an hour or so, Fiona and I hopped back in the van with our final destination being Skógafoss, another majestic waterfall.
Eruption at Geysir.

Later into the night, we were still driving when we spotted a waterfall to our left, lit up in the night. I instantly assumed it was Skógafoss, luckily Fiona wasn't so quickly convinced. She was right, but after driving for hours, we decided it made sense to stop and set up camp here.
Our plan for the morning was to hit Skógafoss and go from there. Shortly into our drive, Fiona spilt all of her coffee. Twice. Once on the road, once in the parking lot. But, we made it there nonetheless. The waterfall was incredible, but also very crowded. We took some photos and hiked to the viewing area at the top before heading back and having a parking lot picnic. If you're looking for a simple camp meal on the road, I'd recommend bagels, cream cheese, and packaged salmon.
Crowds enjoying Skógafoss. In the top right corner, you can see the viewing platform we climbed to.

Fifteen minutes down the road we saw a bunch of cars parked near the ocean. In Iceland, if you see a bunch of cars parked somewhere, it's usually a huge red flag that you should stop there too. We pulled over and decided to check it out. Little did we know, our path would lead us to the popular DC-3 plane crash in Southern Iceland. We couldn't stop laughing at our dumb luck that got us there. We were glad we didn't stick to our path too rigidly.
Our luck didn't end there though. That night, after cooking dinner in the van and hanging out telling stories, we opened the door to get some air. Up above us was a brightly glowing aurora, dancing away in the night. We watched in speechless amazement.
The Northern Lights dancing through the night.

The following day, we planned our first stop to be Svartifoss, a waterfall in Vatnajökull National Park. This particular waterfall is well known for the hexagonal rocks that line the sides of the cliff. The hike took about an hour to get there, but we were happy to be hiking in the mountains again. The very distinctive rock patterns made it one of my favorite stops.
After hiking back down to the van, we took a look at our map and saw a point of interest named Jökulsárlón. We decided we should check it out, not sure of what "it" was. After driving for a little bit, I noticed a group of cars parked by a small hillside. I thought about stopping, but decided not to because we were trying to reach our destination. That's until I caught glimpse of what was beyond the hillside.
Testing the waters. Photo: @fioners

A massive glacial lagoon with bright blue water and massive pieces of ice floating around. I told Fiona we had to stop (she didn't see any of it) and "surprised" her when we walked up the hillside. We would go on to find out that this was, in fact, exactly what we'd been looking for, Jökulsárlón. Walking around in awe and were lucky enough to see a rainbow, spot a seal in the water, and watch a glorious sunset in this beautiful location.

Watching sunset in Jökulsárlón.

Upon leaving, Fiona and I decided that tonight was a night to splurge and eat out for dinner. We stopped at a gas station to ask for a restaurant. Fiona asked if there was a spot we could "grab a slice of pizza and a beer". The employee laughed, "Ishusid".
After driving around trying to be sure what he said, we ended up at the pizza restaurant. Little did we know, the restaurant would have a chalk board with a four-step manual to eating there.
Grab a seat at an empty table.
Order a beer.
Order a pizza.
Wait for your order to be delivered and enjoy with friends.
The pizza was very good, though expensive to our standards of Christian's Pizza in Richmond.
Our fifth day in Iceland we did a lot of driving and rested at a gas station using their free wifi. It was needed, but also encouraged us to do more in the coming days. Our highlight of the day was Havarti mac-n-cheese with toasted breadcrumbs on top.
Our "kitchen".

The following day we found ourselves in the Mývatn area, an area popular for it's geothermal activity and active volcanoes. We did some hiking in Dimmuborgir - the Dark Fortress of Mývatn, characterized by massive lava rock formations, creating an otherworldly environment. That night, we took a dip in the Mývatn Nature Baths, what's essentially an enormous hottub heated by geothermal activity. Not to mention you can buy a wristband and be delivered beer whilst bathing. #protip

Hverir in the Mývatn area.

A lot of Day 6 was spent in the car. It was a day we knew we had to cover lots of ground. We drove for a few hours before needing to refuel where we also decided to eat Subway. Unfortunately, we decided that was probably the last Subway we'll ever eat at in Iceland.
That evening we rewarded ourselves for driving so much by finding a random hotpot (as they're called in Iceland). It was another hot spring, but this one was smaller and in the wild. Advantage: free and uncrowded. We had it all to ourselves for an hour, then hung out for a couple more, talking with other travelers that arrived at this hidden gem. Once it started getting dark we decided it was time to get moving.
Hanging out in the hotpot.

On our last full day with the camper we made one last scenic stop at a waterfall in route to Reykjavik. It was called Children's Falls, a waterfall with a dismal history in Icelandic folklore of two children that drowned here on Christmas Day. This information fit the overcast day and an already somber vibe of leaving our camper van lifestyle.
We returned the van to Kuku Campers a few hours later. In a way it was weird to move out of the van. It had become our home for the last week and their employees were incredibly helpful in transferring us from #vanlife into city lodging. We booked an AirBnb in Reykjavik and Sean from Kuku dropped us off at a nearby bus stop.
Long drives in Iceland aren't short of incredible views.

That night we enjoyed hot showers and a fun night on the town filled with pizza, beer, and lots of funny stories from living in the van. When we flew out the next day, we were already talking about what we'll do the same, or differently, when we return to Iceland in the future.

We want to acknowledge and thank the past, present, and future generations of all Native Nations and Indigenous Peoples whose ancestral lands we travel, explore, and play on. Always practice Leave No Trace ethics on your adventures and follow local regulations. Please explore responsibly!
Do you love the outdoors?
Yep, us too. That's why we send you the best local adventures, stories, and expert advice, right to your inbox.