A Winter Road Trip on Yukon and Alaska's Golden Circle
A seriously scenic 600km circle route with some major backcountry possibilities.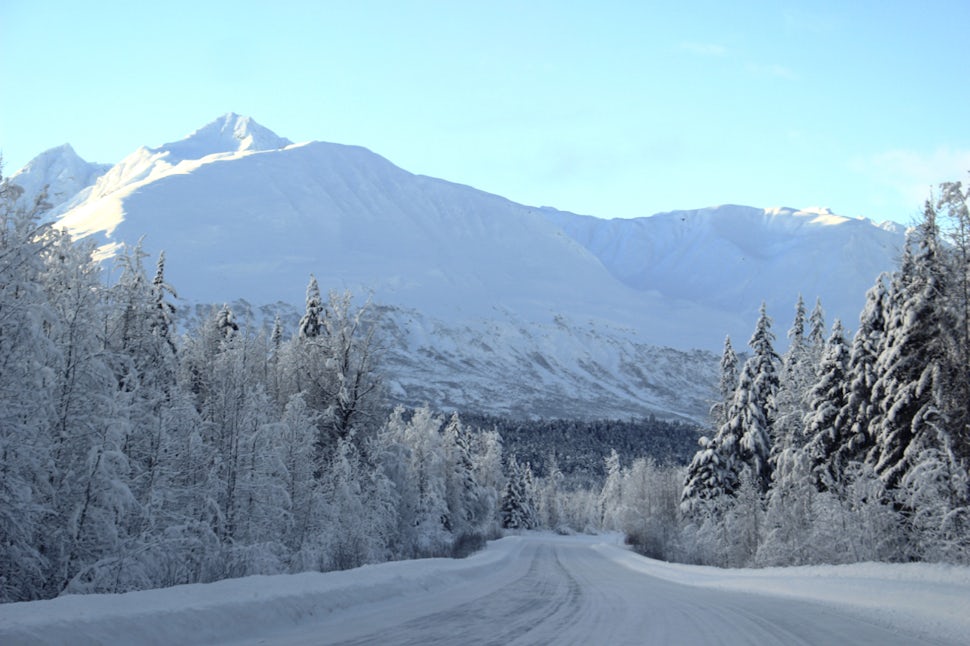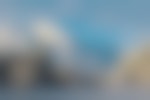 Snow. Ice. Limited daylight. Vast swaths of unattended roads.
Despite more than a few warnings against taking a winter road trip up north, winter was a perfect time to take a road trip on the Golden Circle.
The 600km route is beyond scenic, almost absurdly so.
For months the 'larger than life' landscape of the Yukon has been blanketed by soft white snow. Every peak glimmers against a sea of mountains. The endless expanse of spruce and pine forests with willow shrubs break up the white-out landscapes with hues of soft blue and greens with hints of vibrant reds and golds.
The first section is a stunning 175km journey from Whitehorse to Skagway.
About an hour south of Whitehorse is Carcross, a small community that is nestled between four valleys and is in the heart of the Yukon's lake district. The small commons area of Carcross (short for Caribou Crossing) is home to a variety of beautiful native art that represents the different clans that have for centuries used this area.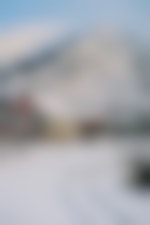 Rich with prospector and klondike gold rush history as well, Carcross in summer acts as a staging area for the historic 52km Chilkoot Trail trek over the mountains and a starting or end point to board the Yukon Route & White Pass scenic railway. For easy half day explorations, one can enjoy the tiny Carcross Desert and climbing the old tramway lines that are now famous as biking trails on Montana Mountain.
The route between Carcross and Skagway is full of beautiful vistas. Journeying over the White Pass, the road curves through glacially-carved valleys, overlooks long finger lakes, and oozes a feeling of total isolation.
If had pulled over to take a photo at every sight I deemed beautiful, we could still be driving. Instead, we headed for one of the easiest access points for some backcountry snowboarding.
Between the Canadian and American customs there are a few pull out areas with many trails accessible. Have a look on yukonhiking.ca for a list of trails in the area.
Bear in mind that an 'easy' rating on the trail, is a completely relative term.

Markings are rare. Route finding is a must. And elevation gains on 'easy Yukon' trails probably are equivalent to 'difficult' elsewhere.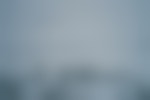 If you venture into the White Pass area, you'll discovered very quickly that the White Pass has much more snow than Whitehorse.

First lesson from the day: if it looks like a little bump in the snow, it's probably a tree you are about to climb over.
After playing in the powder, hop in the car to clear American customs and follow the road on a dramatic descent towards the coast of Alaska.
As you leave the harsh landscapes in the alpine pass, the trees will bulk out until you find yourself at sea level surrounded by a coastal rainforest.
Skagway in winter is incredibly different than summer.

Summertime visitors are in the thousands per day. With multiple cruise ships in regularly, the small town of a few hundred is overrun with shoppers and aimless roamers on their boarded sidewalks that lead from one-century old building to the next.
In winter, you happily wandered the gold rush streets with no one around. With an almost abandoned feeling, it was easy to appreciate the historic town set beneath towering peaks.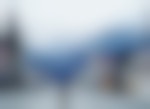 After dining at the only saloon open, you'll likely call it an early night.
On your next day exploring Skagway, you might encounter some challenges. Firstly, the town is too friendly. Conversation is easy in a town that focuses mostly on tourism. Everyone loves a chat and everyone has a story.
Secondly, with the dramatic shifts in temperature, recent snowfall or rainfalls will refreeze overnight making the town was basically a skating rink.
If that is the case, bring spikes. No spikes? Take an easy trail to overlook the ocean and watch your step.

Seals and a sea lion rest along on the water's edge, while the sun quickly appears in the narrow space between the mountain peaks.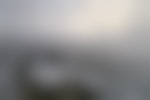 There are plenty more trails to do, as Skagway boasts a trail network maintained thanks to a tourism head tax levied from cruise ship passengers. To continue on the journey, board an Alaskan ferry and cruise the 11km Lynn Canal towards Haines.
Keep your eyes peeled for whales that do stick around even in winter.
To me, Haines feels like the real Alaska.
A town that was built on the back of the fishing and logging industry that has yet to succumb to the cruise ship industry's demands. No cheesy T-shirt stores, no diamond shops by the dozen, the 2500 residents all seem to know one another and are pretty proud of their backyard.
Spend a bit of time in an area overlooking the Chilkat River, a world class fishing spot due to the salmon runs. In winter, the area attracts up to 4000 eagles due to the porous river bed that makes freezing happen late or not at all.
The weather in winter can be fickle in the coastal regions of Alaska. It isn't uncommon to experience an incredible dump of snow and a massive rainfall in the span of a few hours as the temperatures fell above and below the freezing mark.
Haines is famous for heliskiing in the peaks, you've probably seen epic snow shots from this region, but if your budget isn't prepared for heli-skiing it's also an easy area to cross country skiing in the state parks that are close to the town or backcountry access points in the pass north of Haines..
Once you are finished with Haines, follow the highway 150km over the pass from Haines to Haines Junction.
If it is a clear day, you'll have spectacular display of jagged peaks and glacial valleys covered in snow in every direction.
Treeless areas sprawled out give an impression of wandering amongst cotton candy clouds as the land rises and falls beyond the roadside.
The backcountry possibilities along this route seem endless. Know your avalanche danger zones as you'll likely be the only one out there.
The St Elias Mountain chain that edges along the roadside en route is one of the largest protected wilderness zones in the world. Four national parks create and internationally recognized preserve home to Canada's largest grizzly population, Canada's highest peak, a massive non-polar icefield as well as a vast area of migratory birds.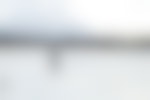 From Haines Junction to Whitehorse, the final 150km of road is just as majestic.
It twists and turns in open plains where elk herds and mule deer roam between the tall frozen grasses and willow tree shrubs. The mountains don't exactly flatten out but the sky does seem to grow.
Shorter days were one of our largest concerns when we went north. But even on the shortest of days we found the long twilights and beautiful low horizon light provided hours of beauty in the sky.
Soft pinks and purples indicate the sun is below the horizon, while warm glows of gold dominate the daylight hours. The snowscape appears to glimmer and shine, refracting the sunshine from all angels.
If you don't think the winter would be a good time to road trip the harsh climates of the North, you might be happy to discover you're wrong.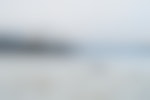 ---
Some useful tips if you decide to take this journey:
- Get in. Whitehorse is the only spot on this journey with an airport that supports commercial flights. It also has rental cars and shops to get you prepared for the journey.
- Good winter tires are a must. Roads are all snow-covered and over the mountain passes, we had to simply follow snow tracks of other vehicles with deep powder thickly blanketing the road. The road conditions up north usually amount to the most severe conditions we'd ever experienced in southern BC.
- Bring food. Haines Junction, Haines and Skagway did have food stops - but not as great of selection as in Whitehorse. In between these destinations there are no open stops.
- Prepare for emergencies. Three ways to start a fire, leave a note in your car (and with someone back home) with your exact backcountry plans including when you plan to return, pack extra food and water, bring blankets in case you break down, etc. With such minimal traffic and no cell phone service - you want to make sure you can survive on your own for a while if disaster strikes.
- Check the forecasts. I'm not just talking weather forecasts, but check the aurora forecasts too. If you have clear skies, the most magnificent sight you'll see might be around midnight.
We want to acknowledge and thank the past, present, and future generations of all Native Nations and Indigenous Peoples whose ancestral lands we travel, explore, and play on. Always practice Leave No Trace ethics on your adventures and follow local regulations. Please explore responsibly!
Do you love the outdoors?
Yep, us too. That's why we send you the best local adventures, stories, and expert advice, right to your inbox.