8 Tips for Kayak Camping Glacier Bay National Park
With over 1000 glaciers found in this reserve, expect some of the most mind-blowingly beautiful scenery imaginable. Also, expect to have it mostly to yourself.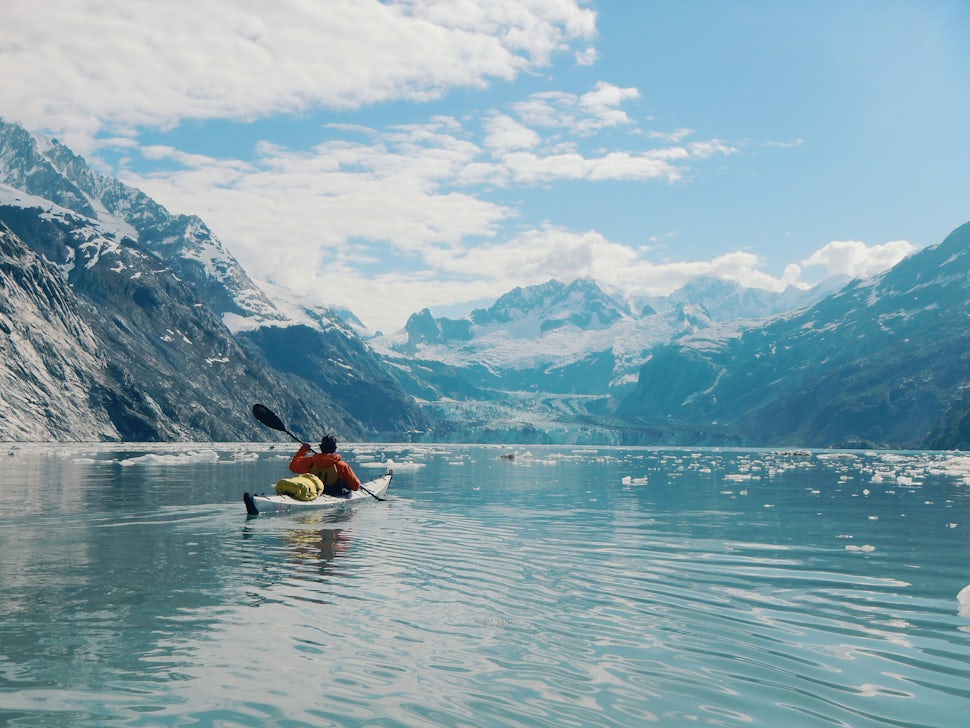 Without a doubt, Glacier Bay is one of the world's most spectacular destinations. Emerald green and topaz blue waters surrounded by glaciers cascading from towering mountain tops stretching straight into the sea. Bays filled with feeding whales, seals floating on icebergs, sea lions sunning themselves on rocky outcrops and bears searching the shoreline for their next meal are all common sights within the preserve.
Nature is abundant here, and changes quickly from the mouth at Icy Straits to the absolute wilderness that stretches for miles inside the bay to advancing glaciers such as the John Hopkins Glacier.
Found in Southeast Alaska, it requires a bit of planning to make this trip of lifetime possible. It's not a well worn path as last year only 568 backcountry campers spent a night in the park. Here are eight tips on how to plan an epic kayaking trip in Glacier Bay.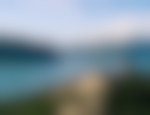 1. Plan ahead.
The park is accessed by boat or flight to Gustavus, a small town of around 300 people. Book the ferry along the Alaska marine highway from Juneau or your flight from any of the neighbouring towns with an airstrip to start your journey. Book ahead, as it gets busy.
Once in the area, make your way to Bartlett Cove, the parks administrative centre to get your permits and book the scenic cruise.
Bartlett Cove is the starting point, but the cruise will drop off and pick up kayakers inside the bay to save three days effort of paddling to get to the glacier.
The west arm is famous for tidal glaciers while the east is known for narrower fjords and abundant wildlife.
Make sure you get to Barrett Cove for 3pm orientation the day prior, where you can get your permit and bear canisters for the park. Also, this is where a free campground is located.
It's better to know which part of the park you want to go to before you arrive at orientation, as you'll have to provide an idea of your route to give to the Rangers.
Keep in mind that sections of the park have seasonal limitations such as the closure of John Hopkins glacial bay prior to July 1 for protection of the seal pups.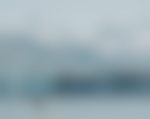 2. Prepare for the worst, hope for the best
An area famed for ice means glacier making weather can occur.
Ensure you have plenty of dry bags, rubberized rain gear, serious thermal wear, synthetic sleeping bags, neoprene booties, bear spray, enough food, water containers and gear for you to be alone and survive if the weather keeps you stationary for a while.
While we generally did see one boat per day at least, it is a good idea to pack along a VHF marine radio, GPS, and a detailed geographical map. The map can be picked up at Ranger Station.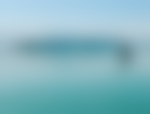 3. Make open water crossings at opportune times
With so many narrow fjords connecting to one another, it is possible to do this trip without making any open water crossings.
However, if you decide to take the quicker and shorter routes across the bay, you will likely encounter at least one crossing.
Bear in mind the charter cruise that the park operates, has one sailing per day. The timings are generally the same everyday and the boat can be heard for miles and miles as it approaches you.
Otherwise, there are usually two cruise ships which can be near silent even if relatively close to you. Crossing the bay can take 30 min to 1.5 hours. Due to size of mountains enclosing the bay, distances can be confusing, and cruise ship wakes can create bath water with large waves that bounce off rock waves also.
Make crossings only when the waters seem calm.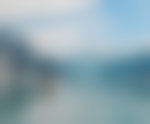 4. Watch for ice flows.
It is extremely important to understand when high tide or low tide is as well as how high the shifts will be.
When camping near glaciers, constant calving can create large ice bergs or ice sheets that move with the currents under the glacier or tide flow, making it impassable. If you awake to a massive sheet of ice instead of clear placid waters, wait a few hours and that ice will have shifted with the changing tides.
It's a good idea to go to the glaciers early in your trip so you have ample time to escape or wait out being trapped by an ice flow.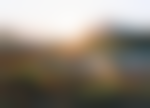 5. Watch for wildlife.
You may feel alone while in the remote bay, however you rarely will be.
Neighbours will include harbour seals resting on ice, with dozens of small pups following their parent early in the season, smelly and noisy stellar sea lions, manically feeding humpbacks, soaring bald eagles, puffins, and curious sea otters munching on mussels while floating in groups.
Bears, moose and wolf tracks will almost always be spotted near beach camp spots so it is best to follow the rules in terms of leave no trace to ensure it is just the tracks you see rather than the animal itself hanging out beside your tent.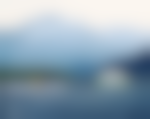 6. Find your solitude.
Prime campsites such as John Hopkins beach can easily be 'busy' meaning you might share it with another camper or two but most stretches of beach or bays can accommodate large groups without being remotely near one another.
Try to abide by the unspoken code that first one there should get the spot to themselves, if you can manage it.


Of course there are exceptions, the black sands beach next to John Hopkins Glacier is a group site but when we arrived three minutes behind another group at Lampough Glacier, a small rock bluff at the foot of the glacier, we had the choice of leaving or setting up camp within ear shot of the other campers. We left, found a nearby beach, loaded our gear into backpacks after ditching our kayaks and hiked 20 min up a rock bluff to have one of the most epic campsites ever.
Every campsite is beautiful within this park, so fret not if that 'perfect one' is taken as there will be one just as good just around the corner.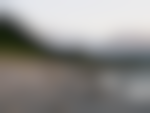 7. Bring your camera with plenty of storage space.
Prepare to be awed at every turn. With 760 miles of shoreline, mountains that reach higher than 15,000ft, deep water fjords, 1000+ glaciers including seven tidewater glaciers that calve into icebergs, and when you find yourself in an area that experiences constant change, you'll want plenty of memory card space to remember it.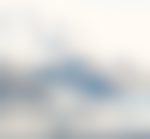 8. Leave no trace.
Leave it as you found it and keep the park wild.
Cook and eat below tide lines to ensure wildlife don't come in contact with human food, don't hurt the forest that has only been growing for less than 300 years.
No fires, no garbage, no trace.
We all need to work together to keep it great for generations to come.
We want to acknowledge and thank the past, present, and future generations of all Native Nations and Indigenous Peoples whose ancestral lands we travel, explore, and play on. Always practice Leave No Trace ethics on your adventures and follow local regulations. Please explore responsibly!
Do you love the outdoors?
Yep, us too. That's why we send you the best local adventures, stories, and expert advice, right to your inbox.