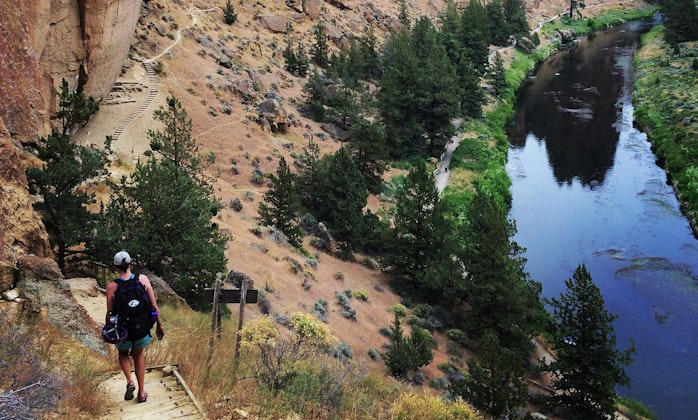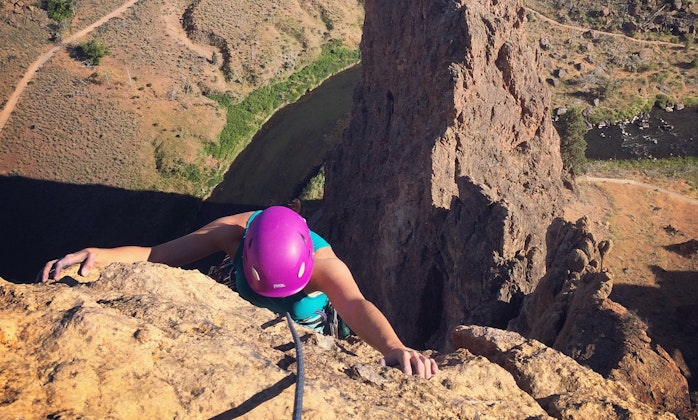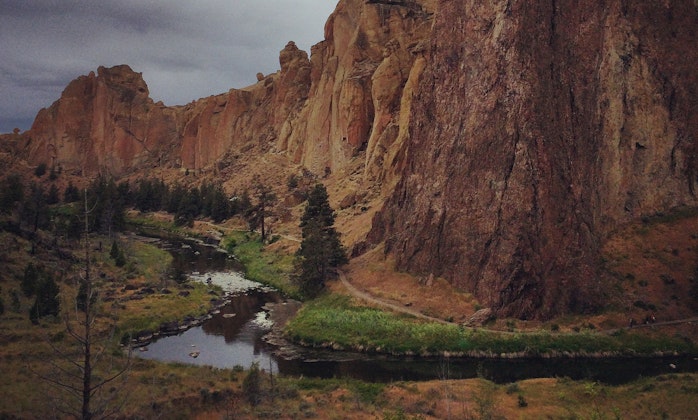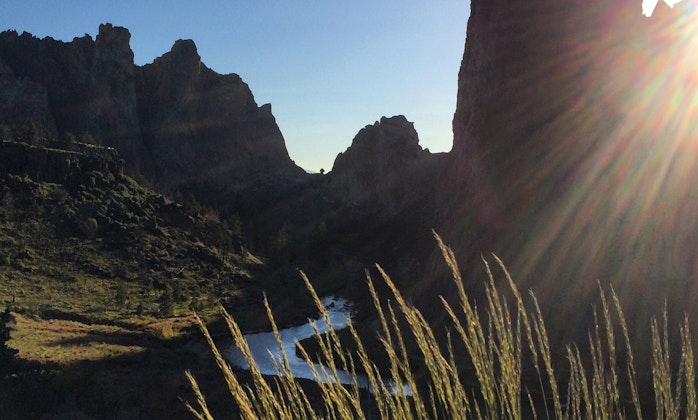 Added by Bo Baumgartner
Voyage of the Cowdog is a three pitch 5.9, 4 star, classic sport route
Enjoy the views the of Smith Rock State Park from the top of your climb
If you don't want to belay down due to loose rock, you hike down the Misery Ridge Trail from the top
Duration: A few hours
This is beginner to intermediate climbing, but true beginners should NOT attempt this due to loose rock, incredible exposure, and a couple of intermediate moves.
Climbers should consult with the Smith Rock Climber's Guide by Alan Watts for full detailed description, but pitch one starts up in the gully climber's left of Ship Rock (the prominent feature seen from the trailhead).
Find the path to the right of Shipwreck Wall. To descend, either rappel the route (although extreme care should be taken to avoid disturbing loose rocks, especially at the top of the second pitch. It is better to down climb (on belay) the second pitch. Alternatively, bring your shoes and walk off the top via the Misery Ridge trail. There's one sketchy spot where you have to step around (or up and over) a bulge. Look for a single bolt to protect a very easy move but insane exposure in a "no fall" situation.
Give yourselves plenty of time to climb this very fun route, that is mostly easier than the grade, if not for a couple of tricky moves (high step the crux at the top of the third pitch) and a lot of exposure.
To get to Smith Rock, take Highway 97 to Terrebonne, turn onto Smith Rock Way, then follow well marked signs to the park. After the hard work is done, if you're heading in to Bend, grab a bite and a beer at Terrebonne Depot.
Pack List
Oregon State Parks day or annual pass required
Sport climbing gear
Harnesses
60-70 meter rope
Helmets (rock fall is a danger here),
Slings
Climbing Shoes
Quickdraws
ATCs
Chalk

Sweet 5.8 rock climb
The final pitch makes it worth it. Nice views and exposure on a fun climb. You can easily walk off this multipitch.
More Adventures Nearby

Hike to Frustration Falls
Oregon / Salmon River Trail
The hike and possible rappel to Frustration Falls begins at the Salmon River trailhead right outside of Welches, Oregon. From the trailhead you follow the trail for about 3.

Hike the Elkhorn Crest Trail
Oregon / Marble Pass Trail Head, Elkhorn Ridge
The Elkhorn Crest Trail runs along the Elkhorn Ridge of the Blue Mountains in Eastern Oregon.