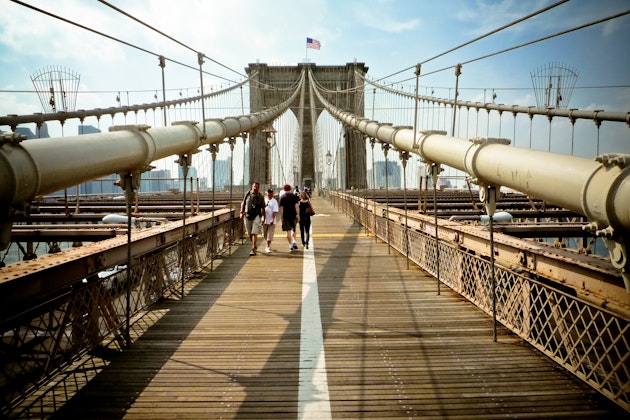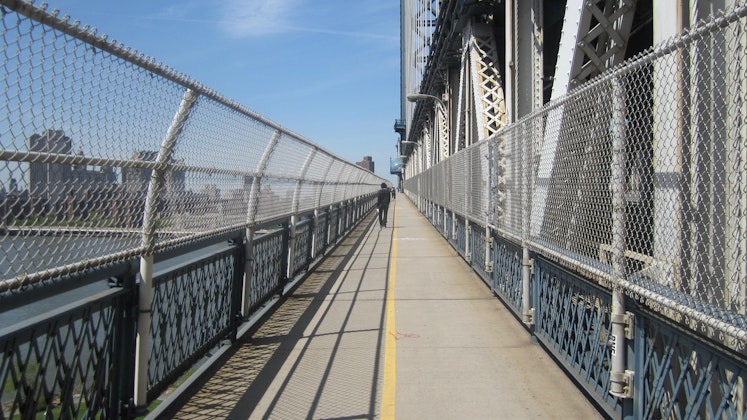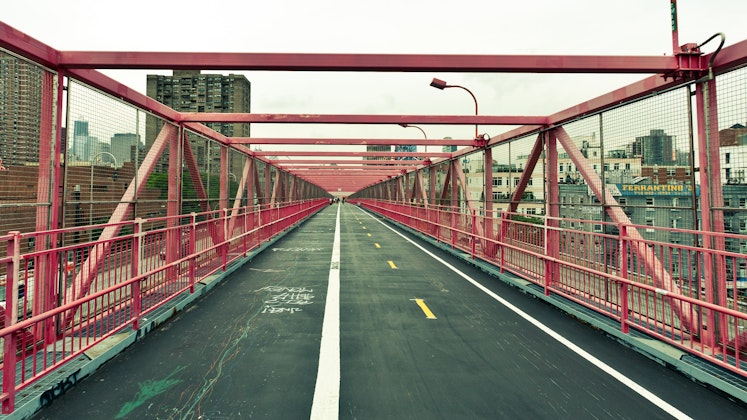 Added by The Outbound Collective
Crosses over 5 NYC bridges: Brooklyn, Manhattan, Williamsburg, Queensboro, and Pulaski Bridges
This long distance run starts out on the Hudson River Trail in Tribeca and ends at Central Park, where you can cool down afterwards.
Brooklyn Bridge: Connecting Manhattan and Brooklyn, this iconic bridge has great views of the Statue of Liberty, New York harbor, East River, other NYC bridges, as you cross. Unfortunately for runners, this also means the bridge is usually crowded with tourists. The bridge is 1.3 miles long, and can be entered near the intersection of Park Row and Centre Street.

Manhattan Bridge: Much less crowded than the Brooklyn Bridge, this bridge from Brooklyn to Chinatown in Manhattan still offers great views of the harbor, particularly along the south side. The pedestrian walkway is narrow and located beneath the traffic, with an entrance at Sands Street.

Williamsburg Bridge: Your third bridge crossing has a bit of an incline, and can often be windy. Enter at Clinton Street and Delancy, and enjoy views of the Brooklyn Bridge, Midtown, and Williamsburg as you cross from South Williamsburg to the Lower East Side. Although there are separate lanes for pedestrians and cyclists, be aware of the traffic around you.

Pulaski Bridge: Connecting Long Island City in Queens to Greenpoint in Brooklyn, this bridge is part of the NYC Marathon route, and looks out on the city skyline. This uncrowded walkway starts near McGuiness Boulevard.

Queensboro Bridge: This final 1.5 mile-long bridge continues to follow the NYC Marathon route, and has a challenging gradual incline that will push you through the last stretch towards Central Park. Enter at 27th Street, and expect great views of Long Island City, the Upper East Side, and Roosevelt Island. Keep in mind that although lanes are delineated, this walkway is very narrow, so runners should be alert to cyclists.
For specific street directions, see the write-up at Funonfoot.
Photos: Roman Königshofer, Dave Winer, Matt Biddulph

Training?
If you live in Manhattan, don't have a car and need to train for a Marathon this is a decent loop but there are far better places to pick up miles while not having to constantly inhale smog.
More Adventures Nearby

Camp at the Highbanks Campground (Letchworth State Park)
New York / Highbanks Tent and Trail Campground
The Highbanks camping area is located on northern end of the park. Entering the park from the Mount Morris the camper registration will be 6 miles in on Park Road.

Backpack the Eastern Half of Devil's Path in the Catskill Mountains
New York / Prediger Road Trailhead
The Eastern half of Devil's Path has four major summits: Indian Head, Twin, Sugarloaf and Plateau. Each summit is a straight climb up and down, then back up to as much as 3,900 ft.