Making The Call To Not Summit Mt. Washington
Turning around is never fun, but sometimes it is the best choice. Making that choice is not always so easy though.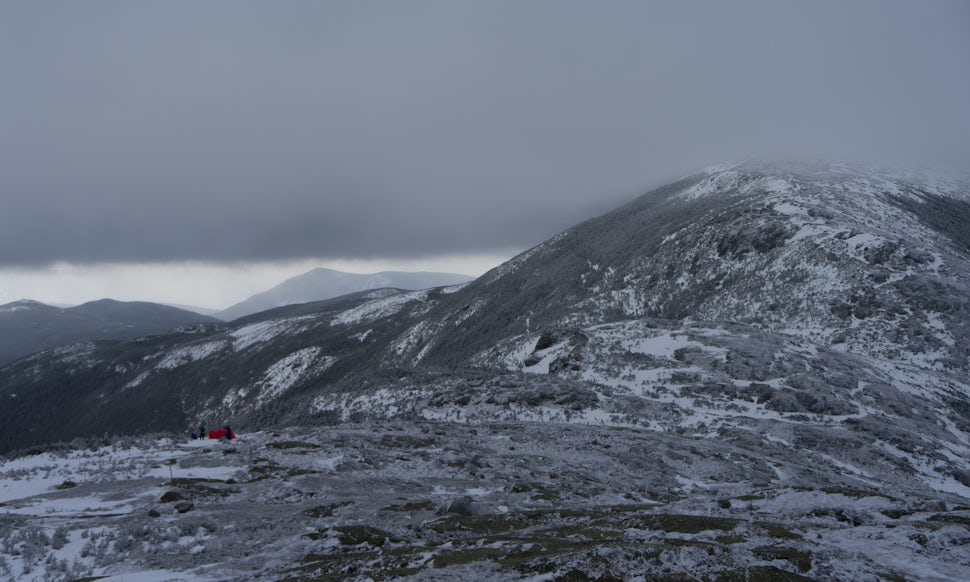 For the last three years I have hiked New Hampshire's Crawford Path during the winter months. I have always done it in the company of a good friend and hiking partner and it has become a bit of a tradition. Crawford Path is the oldest, continuously used hiking trail in America. It covers a beautiful 8-mile stretch from the base of Crawford Notch up to the summit of Mt. Washington. Year round, it's one of my favorite walks. In the winter, with less foot traffic, roots and rocks covered by snow, and a different color pallet, Crawford is darn near perfect. From the trail head it is about three miles and about two thousand feet up through tree covered trail that gives way to 5 miles of traversing the southern half of the Presidential Range. Then you turn around and walk back. Same trails, new perspective on the views. On the rare clear day, you have views for pretty much the entire traverse and you can summit Eisenhower, Jackson, Monroe, and of course Mt. Washington.
This 16+ mile day is long and we started the hike, after a roadside diner breakfast (shout out to the Sunrise Café), at 8am. Making good time, some 3 miles and an hour and 15 minutes later, we were nearing tree line. The wind was howling, as the forecast predicted, and extra layers came on. Real feel temps were to be in the zero to negatives range all day. It never ceases to amaze me just how fast your body loses heat when you come to a stop. Only a small shred of imagination is required to see how it can go from good to dangerous for an unwitting hiker to get into trouble.
(Re)layered up, face mask on, goggles at the ready, we began the traverse and right away got slammed by significant sustained winds. Cherishing the wind breaks and embracing the power of the bigger gusts we hit Eisenhower and, continuing at a solid pace, make for Monroe. The clouds thickened and descended upon us. The wind gave no impression of letting up. Even if I weren't originally from the desert hills north of San Diego, it was cold.
It is important to know your comfort level when you are in the outdoors. When I am hiking alone I want to have fun and that comes pretty easy; I'm just a dude walking around in the woods. I hate turning back but I always take solace in knowing that Mt. Washington or any peak for that matter, really isn't going anywhere. When solo, I definitely exercise a bit more caution and am less reluctant to make a call to deviate from the original plan if I encounter what I personally deem to be an unsafe situation. The trouble often is, being "unsafe" is subjective and everyone has their own threshold. Knowing that threshold is important. But how do you know it if you haven't stood at the edge of it before?
It is also important to know your hiking partner(s). In groups, other opinions and egos come into play. Some people just have to summit, even if it is dangerous. Some people will call it quits long before myself. Some people just go with the flow. Like pretty much all things involving more than one person, communication is key. Thankfully, my hiking partner and I know each other very well at this point and there is no confusion. We talk it out and if someone is really not feeling it, which has only happened once in a handful of trips, we call it quits.
Back to Monroe. We are nearing the summit and are about 7 miles in. Visibility is down to about 300 feet. It's cold. For the first time all day we run into a pair of hikers on the same trail. We join up, hit the summit of Monroe, and begin to descend. Then the trail just disappears. The usually ubiquitous cairns that pepper Washington and all trails leading to it are nowhere to be found. We fan out. Experience tells us that the Lake of the Clouds AMC Hut is northwest but we can't pick up anything that looks remotely trail like. The wind pours it on, gusts push what the forecast will later reveal is hurricane force, 74mph and above. Our newfound acquaintances have had it and we say farewell as they make their way back to the summit of Monroe. We continue for a good 10 to 15 minutes. The visibility is around 100 yards. Looking back I think it was the slowing down and picking around for a trail that did it, but all the sudden I am cold. Not like the cold I have been all day but feeling a bit different. Moral dips and reality sets in. In these conditions hitting the summit, if we can find the trail at all, has us back to the trail head at sundown… if we are lucky. I packed my headlamp just for this purpose but realistically we are looking at an hour or two of dusk turning to dark if we make the summit push.
My hiking buddy isn't the type to turn around. He admits it. The one time we did two years back was on Washington in bad conditions getting worse and he was thankful at the end of it. I'm yelling over the wind no more than 10 feet from him. I am not feeling it. He agrees. We call it a day.
Seven miles back is plenty of time to think about what could have been. The alien moonscape of Washington in the winter alluded us and I wasn't pleased about it. Tauntingly the wind eases up and the visibility increases as we reach the base of Monroe. We are committed to our return. The clouds part and the sun beams through, illuminating the southern peaks of the White Mountains; each step of the remaining traverse gifting better visibility and huge views. A thank you from the mountains for exercising caution perhaps, but probably not. We hike for 3 more hours, down back under tree cover, and to the trail head. It would have been pretty amazing on the summit, but this wasn't so bad. On to the car, blasting the heat, and a beer! I can live with it.
We want to acknowledge and thank the past, present, and future generations of all Native Nations and Indigenous Peoples whose ancestral lands we travel, explore, and play on. Always practice Leave No Trace ethics on your adventures and follow local regulations. Please explore responsibly!
Do you love the outdoors?
Yep, us too. That's why we send you the best local adventures, stories, and expert advice, right to your inbox.