Regarding COVID-19: Please recreate responsibly and practice social distancing. Closures and travel restrictions are changing rapidly, always check and respect local regulations.
What a Month in the Backcountry Taught Me About Community
Community is a necessity for human survival. We rely on each other for teamwork and for encouragement; we need genuine and strong interpersonal relationships to get through the hard times, and to celebrate the good times.
The sub-freezing temperatures steal life from our fingertips and toes. My hiking boots, and my feet, are frozen ice blocks. Every movement demands twice the usual amount of energy and motivation. All we want is hot water, but all the water is frozen and our stoves are too weak to melt snow. Involuntary tears slowly well up under our eyes as we wonder how long this experience will last, and I wonder if my tears will adequately salt the hash browns I am struggling to cook for my tent group.

We all thought camping in the American Southwest Desert would be warm. But on the eastern (and colder) side of Basset Peak, the tallest mountain in the Galiuro Wilderness, January mornings can be snowy and numbingly cold, especially during a particularly aggressive cold snap. So why does so much of my heart want to go back to Basset Peak, even though one of the first words that come to mind when I reminisce on my 18 hours there is "misery"? The answer: community.
In January 2013, I participated in a 30-day outdoor educator course with the National Outdoor Leadership School. Eight other students and I, along with two instructors, left behind all technology and modern amenities. We found that the wilderness's unique, beautiful, and challenging simplicity builds community stronger than anything feasible in civilization, so that individuals can overcome any obstacle or harsh condition.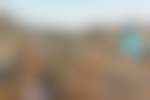 Photo: Gregg Boydston
When a group is fully immersed in nature, they become free from modern complexities. Western civilization today is preoccupied with body image, outer appearances, and the hottest new video on Youtube. Relationships can often come to revolve around such superficiality. In the wilderness, however, mirrors, showers, and make-up are out of the picture. We all smell like a combination of sweat, cats, and vinegar, and our hair resembles bird nests. All that remains to judge each other by is our true inner character. Free from superficiality, these relationships are strong and genuine. I do not know how much money my peers have, nor what they dress like in the front country. All that actually matters is that at the root of it all, we are all genuinely good people. We love, we laugh, we hurt, and we live the best we can, and there are no distractions from these basic facts.

Harsh conditions in the wilderness strengthen interpersonal bonds. The wilderness inspires unspoken treaties of support: will encourage you up this mountain, and one day when I am struggling, I trust that you will encourage me. We learn and develop unconditional love, challenge, support, and trust; this is teamwork and family at its most pure and primal state. From one person setting up the tent while another prepares dinner, to having a shoulder to cry on, in harsh natural environments, we rely on each other to survive.
The night at Basset Peak is a clear example of the importance of community. My hiking group was having a long day. The sun had set, the cold was becoming extreme, and one of our group members, was struggling physically to finish the challenging hike. We had to encourage her with each step to continue up the steep switchbacks. Finally, minutes before it would have been dark enough need headlamps, we arrived at the snow-covered spot where the other hiking group had set up camp. They greeted us with huge hugs, and even handed us a bottle of hot water to share amongst ourselves. That night, tent mates snuggled together for body heat, shared hot drinks, and encouraged each other to stay positive. A true community takes care of each other. Then with each difficult moment, there is a sensation of group accomplishment. We are going to get through this together. And if we can survive this, we can survive anything.
Another factor that builds community in the wilderness is the sheer amount of time that individuals share together. Without the distraction of television or cell phones, individuals are in one another's space almost every hour of the day. We open up to each other to reveal life stories: who we are, where we're from, what we do, who we love, and what we live for. Private matters- emotion, conflict, insecurities, and poop- become public. We are not afraid to be goofy, loud, and honest with each other. We became bored of talking normally, so we spent over a week going in and out of speaking with southern twang and Russian accents. One member of the group often impersonated Elmo at 7 in the morning, while another told us about her dream of having a dubstep dance party with aliens. We became increasingly comfortable and candid with each other, and came to know each other's true selves.
Community is a necessity for human survival. We rely on each other for teamwork and for encouragement; we need genuine and strong interpersonal relationships to get through the hard times, and to celebrate the good times.
When I think back to the 18 hours I spent on Basset Peak, I vividly remember the painful and numbing cold. I remember tears rolling down my cheek and wondering why I joined this trip in the first place. But I also think of the friendship, encouragement, and teamwork that I witnessed there. The warming sense of community cancels out the negative memories. Eleven individuals who have each other's backs can overcome any obstacle. Although society tries to give endless value to material goods, nature reminds us that the most important factor of life is community.
Cover photo: Austin Trigg
We want to acknowledge and thank the past, present, and future generations of all Native Nations and Indigenous Peoples whose ancestral lands we travel, explore, and play on. Always practice Leave No Trace ethics on your adventures and follow local regulations. Please explore responsibly!
Go Pro.
We're committed to building a better, more inclusive home for the modern outdoors. Go PRO to support our mission and get benefits like gear deals, no ads, and more!
Join the community
Learn More
Do you love the outdoors?
Yep, us too. That's why we send you the best local adventures, stories, and expert advice, right to your inbox.