Wildlife Ranch Retreat And Lake Lodge
Jacksboro, Texas
Located 100 miles West of DFW Airport in the hills of the Edwards Plateau South of Jacksboro and East of Possum Kingdom Lake, our 188-acre wildlife retreat & education center features a stocked 4-acre lake and a one-acre koi pond.
Enjoy exclusive use of the entire 3,200 square ft lodge with air-conditioned and heated bedrooms and a screened-in air-conditioned classroom that will seat 40. The den features two, large tables perfect for gathering and connecting over a delicious meal.

The 12' x 60' porch overlooks a 4-acre lake stocked with wide mouth bass, catfish, and bluegill. Come and slide down our 14-foot water slide! Or enjoy an evening by the fire pit overlooking the lake. The kids can frolic in our sand, fenced-in playground.

We also offer three kayaks, a canoe, and a boat dock for your water adventures. There are miles of all-weather trails, two treed campgrounds, two RV parking spots with 30 and 50 amp power connections, and sewer and water connections. A six-station gun range is also available upon request with 17, 50, 100, 200, and 300-yard targets and there's a Micro-Brewery on site.

The Greenhouse has two fully functional aquaponics tanks and is attached to the lodge. The lodge is equipped with solar panels and a backup solar battery in case of power outages. There are three enclosed deer feeders as well as three elevated deer stands with chairs. We are currently housing 200 quail for release on the property in March 2019 at a new pen on the property.

There is a cell phone booster on the property for all cell services, wifi calling works best.
Nearby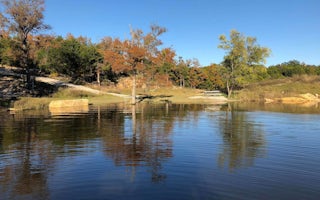 Jacksboro, Texas
Imagine the ideal deer look out on a wooded meadow, complete with a BBQ grill and an RV parking spot outside with hookups. This air-condi...
From $150/night
See more
Adventures Nearby
Possum Kingdom Hike and Bike Trail Phase I and II is a 8.4 mile loop hike that takes you by a lake located near Graford, TX.
Possum King Lakeview Loop is a 1.3 mile loop hike where you may see beautiful wild flowers located near Graford, TX.
Possum Kingdom Phase I South Trail is a 3.8 mile loop hike that takes you by a river located near Graford, TX.