Wilderness Roost
Jacksboro, Texas
This new facility is located at the far north end of the 188-acre property and features a wildlife viewing, porch, fire pit, and BBQ area as well as running water and restroom and 12 volts and 110-volt power.
Imagine the ideal deer look out on a wooded meadow, complete with a BBQ grill and an RV parking spot outside with hookups.

This air-conditioned and heated cabin with a large covered porch provides the perfect place to watch deer bound across the fields nearby. Birdwatching in the mornings with a cup of coffee in hand is the perfect way to reconnect with the natural world.

Enjoy meals out on the large cedar picnic table under a beautiful oak tree. Wildlife feeders nearby may mean some critters will come an enjoy a meal beside you. Sunsets and sunrises out here under the big Texas sky are breathtaking.
Nearby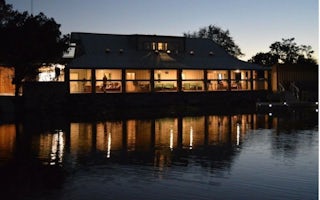 Jacksboro, Texas
Enjoy exclusive use of the entire 3,200 square ft lodge with air-conditioned and heated bedrooms and a screened-in air-conditioned classr...
From $895/night
See more
Adventures Nearby
Possum Kingdom Hike and Bike Trail Phase I and II is a 8.4 mile loop hike that takes you by a lake located near Graford, TX.
Possum King Lakeview Loop is a 1.3 mile loop hike where you may see beautiful wild flowers located near Graford, TX.
Possum Kingdom Phase I South Trail is a 3.8 mile loop hike that takes you by a river located near Graford, TX.