The Other Place
Honesdale, Pennsylvania
A secluded campsite in the woods!
Our campsite is positioned in one of the meadows of our 150+ acre farm. There are plenty of woods to explore, either on foot or by riding a bike or a side-by-side along the old cow paths. There is a small stream and a spring-fed pond to take a refreshing swim or to knock the dust off from the days adventures.

Very peaceful location away from the noise and crowds of the city, but with plenty of activities within a 15 minute radius.

Local attractions:
Pennsylvania State Game Lands #159 within a half mile of campsite. (over 9,300 acres)
Several lakes and ponds in the area for boating, kayaking, fishing, swimming, etc.
NorthEast Wilderness Experience - https://newildernessexperience.com/
The Red Schoolhouse - http://theredschoolhouse.com/
Irving Cliff Brewery - http://www.irvingcliffbrewery.com/
Here & Now Brewery - http://www.hereandnowbrewing.com/
Creamworks Dairy - https://creamworkscreamery.com/
Calkins Creamery - http://www.calkinscreamery.com/
Lander's River Trips - https://landersrivertrips.com/
Wayne County Farmer's Markets - http://www.visitwaynecounty.com/places/Shopping/Farmers_Markets
Nearby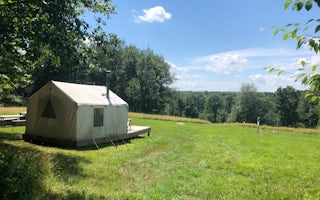 Honesdale, Pennsylvania
Set in a private meadow surrounded by woods in the heart of 70 acres, you will have plenty of woods and fields to explore. You will find ...
From $130/night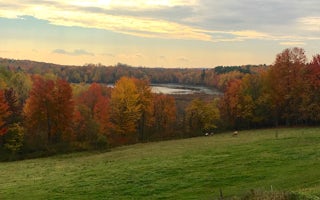 Waymart, Pennsylvania
This site is a perfect getaway from the hustle and bustle of everyday life. Enjoy the tranquility while gazing up at the treetops waving ...
From $99/night
See more