The Cedar Cabin
Hinckley, Minnesota
Crooked Creek Retreat is a cabin tucked away in the valleys forged by the St. Croix River in Hinckley, Minnesota. Guests are surrounded by nearby farmland and woods with a space that inspires you to enjoy nature, wildlife, and family.
Crooked Creek offers a stillness in time, a space for healing, and an opportunity to let your heart rest and settle into twenty acres of privacy. Situated amongst pines, acres of prairie grasses, wildflowers, farms, and fields, guests are invited to settle into the life-giving space that is; Crooked Creek Retreat.

The Cedar Cabin offers a space for those seeking time to rest, have a space to work, reflect, experiment, and explore in a rurally isolated environment comprised of nature, history, and local hospitality. With its large indoor and outdoor workspaces, a sheltered outdoor performance stage, and various accommodations such as this hand-built log cabin, fully equipped kitchen, a fire pit, and an outdoor wood-burning pizza oven, you can be assured that you will find rest and relaxation here.

Call it a lumberjacks' dream: a cozy place for winter retreats next to the potbelly stove or summer family bonding moments, art retreats, and gatherings. Adirondacks around the fire pit to enjoy stargazing, watching lightning bugs or soft snowfall. One of its kind in this area - guest most remember the throwback to simpler times with modern conveniences.
Nearby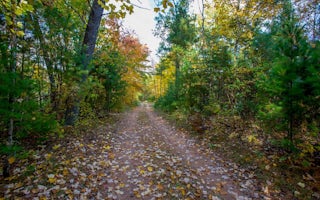 Grantsburg, Wisconsin
Our private wooded getaway nestled deep in the woods overlooking the Wood River. The cabin sits atop a beautiful ravine along the Wood Ri...
From $140/night
See more