The Blue Horn Farmhouse
Newport, Virginia
Welcome to our rural country home! Expect cows, cats, chickens, goats, mountains, and limited cell phone reception. Come to disconnect from the hustle and bustle and relax.
Step out onto our front porch in the morning with a fresh cup of coffee and experience the sights and sounds of cows wandering and chickens cooing away in the yard. Some excellent nearby hiking trails include McKafee's Knob, Cascades, and the Appalachian Trail. Come and hike through the nearby mountains at The Blue Horn Farm. Wrap up a day of nature adventures by cooking up a great home-cooked meal in our full kitchen. Grab a glass of wine and unwind on the porch watching the beautiful sunset over the ridgeline.

The Blue Horn is a relaxing country getaway in Southwest Virginia, 25 minutes outside Blacksburg. We focus on regenerative agriculture, getting back to nature, and saving the world.

Run by love birds, Eric & Lauren, The Blue Horn is our place to get away from it all. Home to beautiful views of our own little piece of the Blue Ridge Mountains. Discover more than 100 acres to wander and explore.
Nearby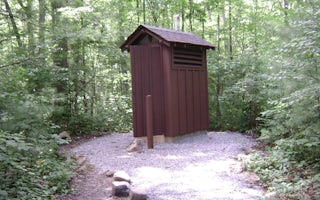 Paint Bank, Virginia
Overview Steel Bridge Group Campground provides old-fashioned, rustic group camping for those that require few amenities. There are thre...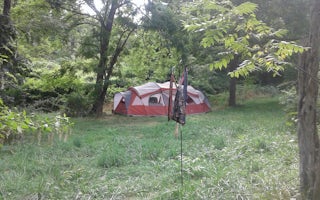 Copper Hill, Virginia
Here you can pitch your tent for up to four people, after parking your car up top. You are welcome to pick the berries, catch the firefli...
From $40/night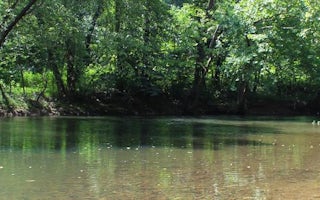 Eagle Rock, Virginia
Overview Craig Creek Recreation Area provides old-fashioned, rustic group camping for those that require few amenities. The large open fi...
See more
Adventures Nearby
You can park your car at the small gravel lot where VA-42 and Rt. 629 intersect. Starting from the Appalachian Trail crossing at VA-42,  head north on the AT, which winds through some grass meadows. After about 0.8 miles into the hike you will cro...
This is a great day hike for families or groups looking to get out for a short hike on the Appalachian Trail in Jefferson National Forest.From 460W Take Blue Grass Trail Rd then a left onto Clover Hollow Rd/State Route 601. Continue on this for 6....
Great for walking or jogging. There are nice views of the pond and there are also other little areas like one dedicated to horticulture. Fishing is also possible (with a license).  Parking is very easy here!