Summer Haven Camp
Stamford, New York
Mountain hideaway on 50 acres of secluded fields and forests in Stamford, NY!
Drive the red dirt mountain lane, past the hayfield, and off the grid cabin to a remote campsite looking towards Mt. Utsayantha in the Northwest Catskills. The Harperfield/Stamford area sits at the crest between the headwaters of the Delaware and Susquehanna watersheds. The stone wall you'll pass is the Delaware and Schoharie County border. The secluded campsite is east facing.

Campers can hike the beautiful, adjacent fifty acres of fields and hardwood forests. Feel free to forage for blackberries and raspberries. Enjoy the Schoharie Creek swimming hole in nearby Prattsville or the wonderful Olympic sized town pool in nearby Stamford. Golfers can enjoy the Stamford public golf course. The Catskill Scenic Trail which follows the Upper West Branch of the Delaware is great for cycling. There are plenty of nearby streams and ponds for fly fishing. For cultural interest visit Glimmerglass and the Farmer's Museum in Cooperstown, the Museum of Anonymous Art in Charlotte Valley, or the Hobart Book Village.

This campsite is equipped with a queen sized bunk bed!
Nearby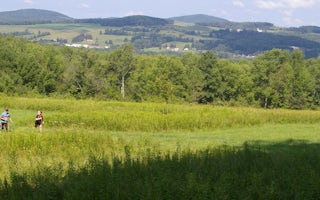 Stamford, New York
Once known as "The Queen of the Catskills" Stamford, New York has been an ideal location to escape from the hustle and bustle since the 1...
From $99/night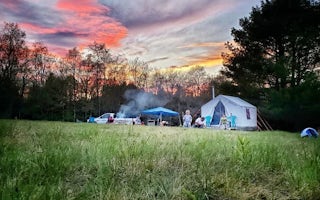 Worcester, New York
Welcome to Little Farm in the Dell Camping Experiences. We are a developing hobby farm hidden on 275 acres, half an hour from Cooperstown...
From $65/night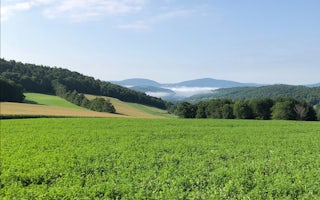 Bloomville, New York
Located on a hilltop overlooking a working dairy and beef farm, this campsite offers beautiful scenic views of the natural New York lands...
From $140/night
See more