Streaked Mt Top Me. Campsite
Buckfield, Maine
Tentrr Field, wilderness site. Only 15 minute walk up to the Mountain's 360 degree summit views! Woodsy walks or ATV!
A quiet and secluded mountain meadow field, in the South-Central Maine countryside; protects the tenter's site from harsh elements. A 360 degree view from the T-Range summit of Streaked Mountain, views to the White Mountains, Sunday River and Biggalo Ranges, Southern Lakes, and East to the Atlantic Ocean. Quite Varied terrains makes it easy for both inexperienced and experienced hikers!

While hiking go up or down the dirt road destinations or woods trails. There is the summit, woods, protected moss fields, a woodsy waterfall, a mine and many fun historical kinds of tales. Or simply just sit and relax at your quiet tentrr site. Optional extra cost includes using the cabin kitchen privileges on the other side of the field too, based on availability. The Tentrr campsite is private! Over at the cabin area, other people could be present. Your Host has a tiny room over there- she can be available to help with your needs: ie jumpstart your car if you wear your car battery down charging your phone..HaHa), firewood to buy on site!
Nearby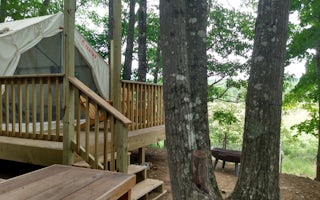 Buckfield, Maine
We welcome you to stay here at Piper Ranch, a farm near the rural village of Buckfield, Maine. On our farm you will find an old apple or...
From $90/night
Buckfield, Maine
Welcome to Private Retreat at River's Edge, your personal hideaway in the Western foothills of Maine. You'll be tenting in the Maine wood...
From $90/night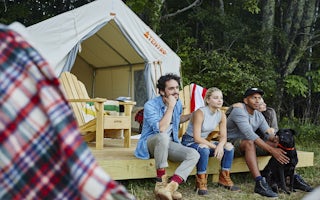 Sumner, Maine
This scenic campsite is located right on A Wrinkle in Thyme Farm property in western foothills of Maine. A short drive to campsite during...
From $90/night
See more