Spotted Deer Hideaway
Olga, Washington
Secluded and tucked away into paradise, this home introduces you to a world of wildlife and wonder.
Hideaway at this end-of-the-road estate surrounded by waterfront views that sweeps you away into the wild. Located on the edge of Historic Sea Acres and a few miles from Doe Bay Resort, guests wake up to eagles, otters, and vermillion sunrises that you'll want to last forever.

Enjoy your morning coffee from a cozy spot on the expansive deck and feel the water's breeze blow across your face. Relax and watch the marine life playing in the water with abundant peace and quiet. Families with kids love the vast open space and the play areas carved out for hours of playtime. Whether you're cooking, dining, or relaxing in front of the fire, you can easily enjoy the company of your family and friends in one common, spacious area.

Take the day out on the water for a kayaking excursion or a winter hike, our fireplace will keep you toasty warm once you return. Guest rooms are sprinkled with natural touches that bring the outdoors in. Rooms are complete with big views of the water and islands beyond - regardless of where you are in the home, you won't miss the beauty of the sunrises or sunsets.

This island gem can host your summer fun, as well as winter excursions! If you stay long enough, you'll encounter why our home is called the Spotted Deer Hideaway.

Nearby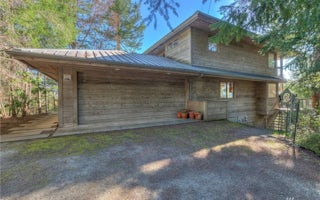 Eastsound, Washington
Minutes from town, yet far enough for peace and quiet Palisades Villa is serenity and the perfect escape in the heart of Orcas Island. Wi...
From $478.50/night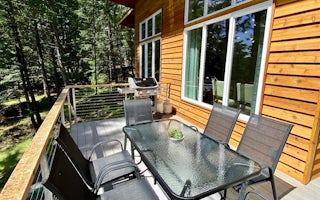 Eastsound, Washington
Perfect for friends and small families, you'll find yourself in awe of the surrounding landscapes at Moran State Park and Rosario Marina....
From $478.50/night
Lummi Island, Washington
Full Bloom Farm is a small diversified farm located on Lummi Island, WA in Puget Sound. We specialize in unique varieties of cut peonies ...
From $139/night
See more