Souhegan Serenade
Merrimack, New Hampshire
Let the music of the river rolling downstream sing you to sleep and the trilling of birdsong greet you in the morning
Souhegan Serenade is a secluded campsite situated in a small clearing surrounded by mixed pine and hardwood alongside a beautiful river yet only an hour from Boston and within ten minutes of the interstate. The only things you will see from your site will be trees, wildlife and the river. Now that winter is approaching here in New Hampshire the site is restricted to weekend use to ensure we have time to clear snow and re-pitch the tent. With a three day notice we can open the site during weekdays if you desire. The tent is equipped with a queen sized bed and a propane heater rated safe for use in a tent. The winter rates include a tank of propane for the heater so you will stay warm in your bed all night long. We'll keep bringing the firewood so you can keep the chill away when you're ready to sit by the fire. The site is equipped with Adirondack chairs and a small camp table for your kitchen use along with sturdy logs set up for camp stove or other elevated surface use. Souhegan Serenade is dog friendly so your best friend is welcome to join you in exploring our quarter of a mile of river frontage on 21 acres.

Children under age 13 do not count against the 4 person maximum. Should you require the popup tent, please book the tent tear down, drying and storage service in the "Extras". For your convenience, we also offer a set up service for the 2nd tent as an extra.

We also offer our guests a guide to camping at Souhegan Serenade that covers descriptions of float trips on the river as well as other local points of interest. So after you book, be sure to check back for our message so you can get our email address and request the guide.

Come enjoy our slice of New Hampshire's gorgeous outdoors.
Nearby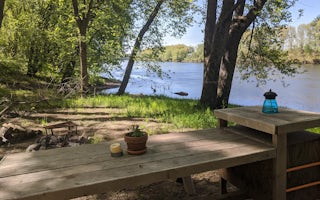 Litchfield, New Hampshire
This campsite is situated on a ridge that overlooks the Merrimack River, and is covered by bending silver maple trees. A perfect getaway ...
From $100/night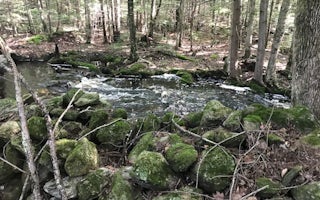 Lyndeborough, New Hampshire
Come relax and recharge at Wally Meadows at Purgatory Falls campsite. The site is nestled in amongst the woods to give you a nice sense o...
From $100/night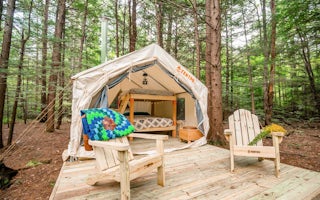 Wilton, New Hampshire
The Snug Life is located on a 52-acre Certified Family Forest, right on the Souhegan River. Campkeepers, Jody & Keith, look forward t...
From $125/night
See more