Smoky Mountain Cinema
Pigeon Forge, Tennessee
When peanut butter met chocolate—that was a memorable day. But when cinema meets the Great Smoky Mountains—that is the perfect recipe for a fabulous vacation! "Smoky Mountain Cinema " a luxury Pigeon Forge cabin.
This Pigeon Forge cabin boasts six bedrooms six a half baths and comfortably accommodates up to 18 people! So bring the whole family or a whole bunch of friends.

"Smoky Mountain Cinema" is packed with luxury amenities too so be prepared to have so much fun on this vacation that you may not ever want to leave! With professional décor and beautiful hardwood floors as well as a fully-equipped kitchen "Smoky Mountain Cinema" also features a game room packed with fun activities including a pool table air hockey table and a stand-up arcade.

All six bedrooms in the "Smoky Mountain Cinema" include a king-sized bed and private deck. A bedside Jacuzzi is also included in each of the four master suites. You will also enjoy spending time watching movies together in the home theater room on a large projector screen. The home theater provides cinema-style seating with two tiers of luxury leather seats! So pop some corn and let the fun begin!

Your trip to Pigeon Forge will be a truly memorable experience after your stay in the "Smoky Mountain Cinema." So grab a Reese's peanut butter cup and celebrate the next great invention—cinema in the Great Smoky Mountains!
Nearby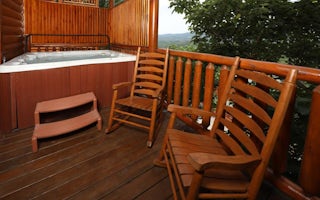 Pigeon Forge, Tennessee
"Majestic Mountain Lodge" features stunning top-of-the-mountain panoramic views, two master bedroom suites with stone fireplaces and whir...
From $614.50/night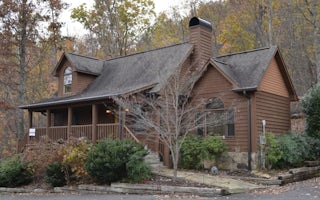 Pigeon Forge, Tennessee
Enjoy a warm soak in the Jacuzzi when you return from your day's outing in the park watch the sunset from the porch or dream by the fires...
From $210.50/night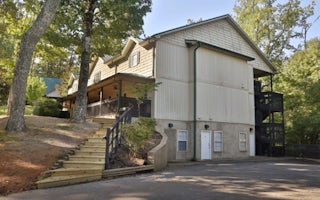 Pigeon Forge, Tennessee
Simply decorated you will find all the creature comforts of home and this will soon become your haven from the cares and worries of the w...
From $1,687/night
See more