Rainbow Ridge Farms
Onalaska, Wisconsin
Established in 1996, Rainbow Ridge Farms is an award-winning, favorite destination for couples and families to enjoy a farm-stay vacation. The animals are friendly, the B&B is charming, and we have WiFi, air conditioning, and a fireplace.
Rainbow Ridge is a working hobby farm. We raise award-winning dairy goats, sheep, chickens, heritage turkeys, and heritage pigs. As good stewards of the earth, we are committed to sustainable farming techniques. All of our animals are pasture/free-range and love to interact with our guests. A hike to the famous monkey tree with the goats is a must!

This is our residence, and all four of our guest rooms offer a wonderful view of the pond and surrounding bluffs and farm. There are some common areas including two living rooms and a dining room. The dining room has a huge table that is wonderful for board games. We are a 35-acre working farm. We milk approximately 25 dairy goats twice a day in season, collect eggs from our chickens, and garden. There are a large pond and fire pit. Kids love to play in the fairy house too.
Activities at the farm vary by season. You are welcome to help milk goats, feed babies, work in the garden, and collect eggs for breakfast in the morning. Rainbow Ridge Farms is proud to be a pioneer of Goat Yoga in Wisconsin. We hosted our first class in 2015. Please join us for a class!



Nearby
Winona, Minnesota
Scrappin' on the Ranch is a family run business. That's me (Jolene, owner), and my two sons, Riley and Logan. We've put a lot of time and...
From $102.50/night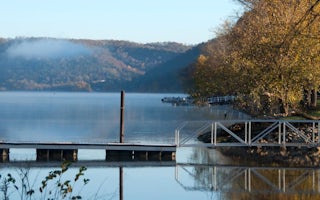 De Soto, Wisconsin
Overview Blackhawk Park is located on a forested bend of the main channel of the Mississippi River. The campground is the largest public ...
See more