Pleasant Mountain Stream Camp
Denmark, Maine
A camper's haven under a canopy of old growth Eastern Hemlock & White Pine next to our crystal clear spring-fed mountain stream.
If you enjoy the forest & the sights & sounds of nature of a mt stream, this camp is for you. We are located in the heart of western Maine's Lakes & Mountains region, near the Saco River & 25 miles to the Mt Washington Valley, the White Mts of ME & NH, a mecca for year round outdoor recreation, be it rock climbing, hiking, biking or skiing. Evan's Notch is only 30 incredibly scenic miles away for quiet, vast hiking options.

We have private hiking trails right on the land and public hiking trails with stunning views only 1 mile drive or walk away from your site right on Pleasant Mt.

Summer options including a private, guided day canoe excursion on tucked away waterways that abound with wildlife and water fowl, only a short drive from your site along gravel country roads (5 miles). Or drive a short distance to multiple put-in locations with your own canoe or kayak on nearby pristine ponds & rivers. We are adjacent to trails for mt biking on nearby snow mobile trail systems.
Our wood~fired sauna is available for private sauna appointments or Saturday community saunas.
http://www.ntnretreats.com/sauna/
Nearby
Bridgton, Maine
Picturesque campsite with stunning views of Mount Washington, the Presidential Range of New Hampshire, and the lakes of Western Maine. En...
From $120/night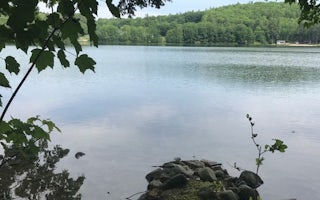 Bridgton, Maine
A great place to experience the outdoors! There are so many cool animals to say hi to, including some rabbits. Enjoy a swim in the pond o...
From $100/night
Chatham, New Hampshire
This Topo Pino campsite is a hiker's paradise and Flowfold gear testing destination perched above two lakes bordering the White Mountain ...
From $130/night
See more