Mt. Baker Fern Hollow Lodge
Deming, Washington
Surrounded by natural ferns, you will be absolutely delighted while staying in this gorgeous retreat.
You'll find a mudroom with plenty of storage for both your summer and winter outdoor gear as you enter, before coming into an open and airy living and dining room area with a breakfast bar, vaulted ceilings and an expansive window area overlooking tall cedars, a wood stove for cozying up to, and nice leather furnishings.

Just outside on the side deck, you'll discover a private hot tub, and on the generous sized front deck you'll discover a gas grill. And don't forget the puppy! This cabin is pet friendly so don't leave the little guy behind.

Nearby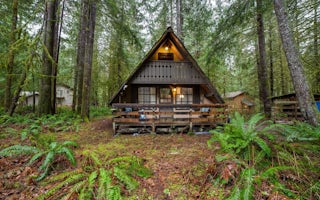 Deming, Washington
Enjoy your stay in a very rustic, pet-friendly family cabin with an electrical fireplace; perfect for a mountain adventure or romantic ge...
From $149/night
Deming, Washington
This 3-story, 2+ bedroom, English Tudor style home is very tastefully decorated. The exterior includes a large 2-tier deck with an outdoo...
From $259/night
Deming, Washington
Scenic Route 542 is the ideal gateway to the cabin, as the surrounding scenery smothers the highway and brings visitors into connection w...
From $244/night
See more