Mountain View
Ellenville, New York
Quiet mountaintop. Your campsite overlooks a peaceful valley and a mountain range across from your camp. Secluded from all of the city life. DUE to the COVID 19 virus we are only taking bookings of 2 people to a booking.
This campsite is set on the highest point in the area. It looks across to Sam's Point and is close to restaurants for breakfast, lunch, or dinner. If you're looking for hiking and biking, head over to nearby Lippman Park.

This fall, enjoy the fall colors, great weather, blue sky, and big harvest moon.

The sky is your roof and the green grass is your carpet. Watch the sun rise and the moon and stars cover you. Relax and enjoy!


This campsite is equipped with a single Queen-sized bed with a real mattress, outdoor outhouse, relaxing chairs on your deck, place for a campfire, table for enjoying a meal in the fresh air or table and chairs in tent if you have bad weather.
Nearby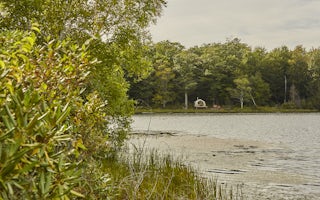 Mountain Dale, New York
Dazzling lakeside campsite nestled in birch, pine, and oak trees with access to 300 acres of hiking. Visit local wineries, browse antiqu...
From $180/night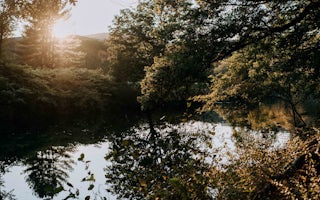 Ellenville, New York
A picturesque forest camp a hundred yards away from the Sandburg Creek that offers hiking, fishing and swimming as well as proximity to m...
From $150/night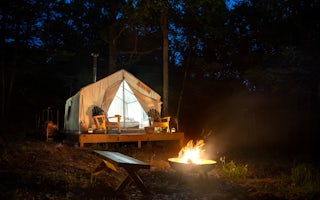 Wurtsboro, New York
Nestled on a ridge with mountain Laurel and fresh air. Tranquil and secluded yet easy to get to and close to the town of Wurtsboro to ch...
From $99/night
See more