Magical New England Treehouse
Duxbury, Vermont
Wake up to the splashing of the rainbow trout from the pond below. Way up in the treetops of the Treehouse, nature, magic, and luxury come together in tranquil harmony. Let your imagination soar and dreams run wild.
Start at the steps that wind all the way to the top of the Magical New England Treehouse. As you make your way, step by step, take in the view of the woods and notice the pond below. Look closely and see the trout splash, leaving small ripples as they swim.

Continue up the circular staircase and happen upon the bedroom. Featuring a custom-made Queen bed and wood-furnishings that mirror the landscape of the woods, this bedroom is both cozy and unique. The balcony is the perfect spot to take in the breathtaking views of the surrounding treetops.
The wrap-around deck provides 360-degree views from all sides of the house. All Treehouse guests enjoy a delicious, full breakfast provided each morning of your stay. Sip on a hot cup of coffee and admire the hand-crafted furnishings of the kitchen, the perfect way to begin your day before trekking through the forest. Need extra space for your food? The kitchen of Moose Meadow Lodge is available for storing food or for preparing extra snacks or meals.

Moose Meadow Lodge & Treehouse is licensed, inspected, and registered with the VT Department of Health. We are members of the Waterbury Tourism Council and the Vermont Chamber of Commerce.
Nearby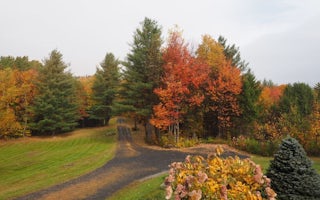 Duxbury, Vermont
Make yourselves at home and enjoy the peace and serenity of our secluded property. With 4 luxury guest rooms and magical 2-story treehous...
From $1,076/night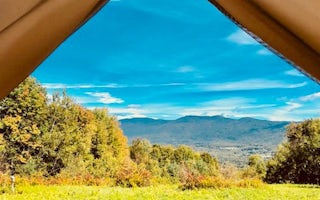 Waterbury, Vermont
Serene, mountain-view tent site located on 10 private acres with pond near hiking trails. Feel as though you are miles away from societ...
From $99/night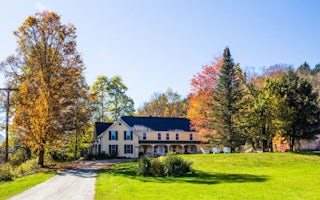 Waitsfield, Vermont
Come stay on the Farm and experience what life is like when you take your foot off the accelerator, every day is a good day to be here. T...
From $800/night
See more