Visit and see why campers of all ages return for a variety of camping experiences. Just 35 miles east of historic Galena, this flower-landscaped campground includes wooded and grassy areas surrounded by rolling farm fields and tourist attractions. Nearby, find hiking, fishing, golf courses, bike trails and antique shops. Enjoy KOA's heated pool with a double tube slide or the Jumping Pillow. Join in sand volleyball, horseshoes and basketball, or rent fun-bikes and pedal karts. Activities include bingo, pancake breakfasts, barbecues, ice cream socials, hayrides, live music and movies. Check website for details. Cabins surround a large outdoor Camping Kitchen - ideal for groups/reunions. Deluxe Cabins with full amenities are great for weekend getaways. Pool: May 25 - September 9. Max pull thru: 75 feet. Your hosts: the Long family.
Nearby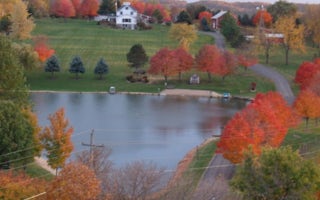 Elizabeth, Illinois
Experience life on a farm with your family and friends at The Country Experience Amstutz Family Farm. Enjoy 34 acres dotted with cozy ca...
From $285/night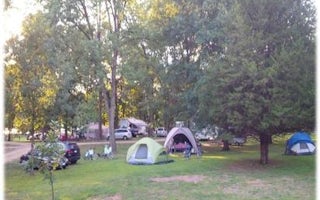 Hanover, Illinois
Overview Blanding Landing is situated in a lush river valley on the east bank of the great Mississippi, just 13 miles from Galena, Illino...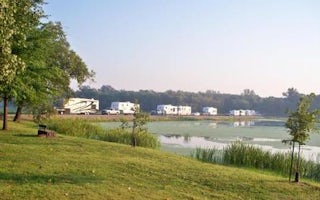 Thomson, Illinois
Overview Thomson Causeway provides the unique experience of island camping on the great Mississippi River and it's well worth a try! The ...
See more
Adventures Nearby
The Castle Rock North Trail is a 3.5 mile loop that is great for all skill levels, such as families, and dogs are allowed on leash! The hike features a river, and has scenic views of the nearby landscapes from the top of a lookout point. 
The cave is located beneath an outdated (but cool) gift shop on an little old gravel lot at the end of a short country road(Crystal Lake Cave Rd). The cave is about a 1-1.5 mile loop that takes about an hour. The cave is usually pretty cool and ca...
Cattesse Trail is a 4 mile out and back hike that takes you by a river located near Dubuque, Iowa.
Unfortunately, we don't have up-to date pricing data for this listing, but you can check pricing through KOA Kampgrounds.
Book Now