Lakeside Home In Remote Country With Spectacular Views
Rio Arriba County, New Mexico
A luxury home on 20 acres overlooking Abiquiu Lake. This is a magical spot - experience stillness, panoramic views, stars/galaxies. We are located remotely on Abiquiu Lake - there is no light or noise pollution. Hike from the front door!
Connect with nature at The Casita del Lago. This magical location provides incredible 360' majestic and panoramic lake, river, mesa, and red rock views. You won't find street lights, strip malls or blow-up dinosaurs here - but you will experience stillness, silence, astonishment, inspiration, and adventure. There is much to do and explore in the area, but we hope the highlight of your trip is staying at this home. Indoors and outdoors, you will be captivated by the views.

We built The Casita del Lago (Little House on the Lake) with great attention to quality and beauty. Located on a lakefront property on Abiquiu Lake, 70 miles north of Santa Fe, the custom adobe-style home is situated on 22 acres in the heart of Georgia O'Keeffe territory. The home is surrounded by majestic views of Abiquiu Lake, the Chama River, Cerro Pedernal, million-year-old red rocks, the Jemez Mountains and Carson National Forest. You will be in awe as you watch the sunrise and set.

The home has two bedrooms, two baths, a full and modern kitchen, an open concept family room, desk area and dining area, fireplace and laundry facilities. Outside, you will find heated patios, amazing spots to sit and take in the views, a BBQ grill, a hot tub built into the rocks, a fire pit overlooking the arroyo, a hiking path to the lake, 22 acres to explore, outdoor seating throughout the land, and a lakefront cove perfect for fishing and swimming. If you have kayaks, launch them at the nearby boat launch. Our guests have described it as "the most beautiful place on earth", "nirvana" and "the best vacation rental home they have ever stayed at". It is a special place, on special land, where you can truly experience the beauty and peace of The Land of Enchantment.

The home is located on 22 acres of private Abiquiú lakefront property in a gated community with lake access. The drive to the home with the incredible Sedona-like views is worth the trip in itself! You will be amazed at the views that surround you and you will want to wake up early just to witness the break of dawn. Then settle in for an afternoon siesta on one of the outdoor daybeds, or curl up to a book; go down to the water; start a gourmet meal; sightsee (if you must); horseback ride; photograph; hike the arroyos on your property; draw, paint, write, dream, and much, much, more.
Nearby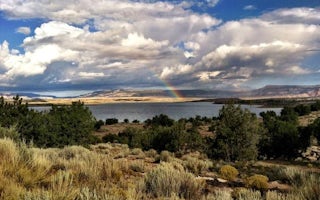 Gallina, New Mexico
Overview Riana Campground is located on a 150 ft. bluff overlooking the scenic Abiquiu Lake in northern New Mexico, just one hour northwe...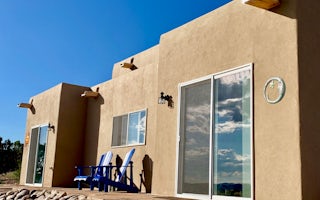 Gallina, New Mexico
El Sol sits on an 8-acre property and offers hiking from the front door. Hike to the lake to enjoy the water, or drive to nearby Ghostran...
From $135/night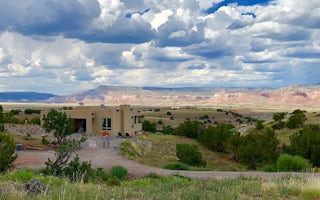 Gallina, New Mexico
Our guests all comment on two things: the home and the views. And views there are of Abiquiu Lake, Rio Chama, Carson National Forest, and...
From $220/night
See more