Tentrr connects adventurers like you with private landowners who want to share their land so you can experience new places.
Katahdin Woods And Waters
Mount Chase, Maine
Private Pondside Campsite Getaway at your own Katahdin Region Base Camp
A nature lover's paradise! Nestled in the wilderness of northern Maine, this beautiful campsite can be your base camp while you traverse some of the best trails the northeast has to offer. Located an hour from Bangor and two hours west of Acadia National Park in Bar Harbor, this tent site is a destination for canoeing, kayaking, bird watching and fishing. This campsite is also about half an hour from the north entrance of Baxter State Park, and an hour and a half from the Roaring Brook trailhead to Katahdin. If hiking isn't your thing, unplug and unwind at your own secluded wilderness tent getaway. Sit back and relax, swim or fish at your own farm private pond, or get a killer game of disc golf going on the site's 10-hole course! Our grassy fields are perfect for activities and games. Once the sun sets, campers will be hard pressed to find a better place to stargaze - our clear skies are unparalleled.
---
More Places to Stay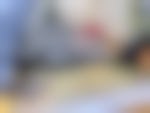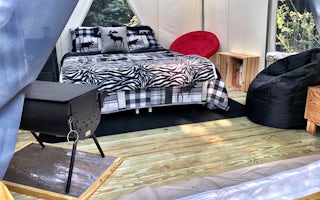 Merrill, Maine
You will not find a more quiet retreat. Our camp is tucked away on an ATV trail in Northern Maine, secluded and surrounded by nature. There is an ATV rental nearby so campers can explore the trails...
From $109/night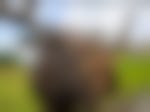 Merrill, Maine
42 secluded wooded acres. Our back country site includes a fire pit, a picnic table and storage cabinet, and plenty of room to set up your tents. We allow up to 4 people to camp at our back country...
From $40/night
Adventures Nearby
Day #1 This Backpacking trip starts at the Roaring Brook campground on the east side of Baxter SP. Immediately after entering the park through the Togue Gate, take the first right towards Roaring Brook CG. Register with the Ranger there and begin...
20 miles
5000 ft gain
Hiking Katahdin is extremely rewarding and worthwhile. Not only are you welcomed with an incredible view at the summit, but if you hike it later in the year you can have the chance to talk with those finishing their 2,000 mile journey on the Appal...
11 miles
2353 ft gain
Started the hike at Roaring Brook Campground and followed the Chimney Pond Trail for 3.3 miles one-way (Elevation gain 1,425 ft). Upon reaching the Chimney Pond Campground, we re-watered and started up Dudley Trail for a short, but steep 1.3 miles...
11.2 miles
5267 ft gain