Homochitto Creek Sunrise
Union Church, Mississippi
Wooded hideaway where you hear the birds chirping in the morning and bull frogs croaking in the evening.
Back country site to pitch your own tent or rent a cot tent. Nestled in the mountain-like hills of Western Mississippi is the Homochitto Creek TENTrr. The Homochitto National Forest provides a wooded landscape that is beautiful but rugged, with secluded camping and diverse recreational opportunities. The National Forest encompasses 191,839 acres of down home southern lands that are just as charming as its inhabitants. Multiple recreation areas are available to appease your outdoor needs. Miles of trails weave throughout for hiking, biking, four wheeling and horseback riding, and nature blooms in every direction for your eyes and soul to feast on.
Nearby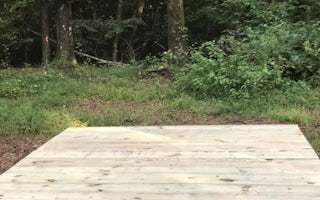 Union Church, Mississippi
A tent site location for someone who does not want to be deep in the woods. Oversees a small valley for deer sighting,
From $40/night
See more
Adventures Nearby
Open to hikers and bikers for a $3 fee, this single-track loop passes by creeks and hills, making for a scenic hike or ride in the Homochitto National Forest.