Gold Mine Hideaway
Tower City, Pennsylvania
I have installed a new tent!! Secluded, shady, and peaceful creek side campsite
GoldMine Hideaway is a 110-acre farm nestled in the foothills of the Blue Mountains Tower City, Schuylkill County, PA, where you will have some great hiking and views! We own a large farm nestled against the mountainside, with a creek nearby to dip your toes in and relax. Sprawling views of the whole valley and wildlife spotting are at your fingertips!

If you want to get out of the campsite, take a trip to the following locations only a short drive away: Hershey Park and Chocolate World (28 miles), Yuengling Brewery Tours (22 miles), Ashland Pioneer Tunnel Coal Mine Tour (25 miles), Knoebles Family Amusement Park (38 miles), Hollywood Casino at Penn National Horse Race Course (20 miles), Lake Tobias Wildlife Park (22 Miles), Millersbury Ferry Boat Ride (24 miles), and Clarks Creek (13.5 miles). This is just a short list of the awesome things to do in our area.

Please come and enjoy our quiet farm and take some time to unwind and sightsee.
Nearby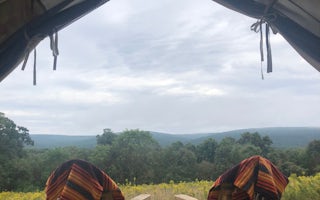 Schuylkill Haven, Pennsylvania
Set back behind today's modern agricultural life and be transported to the past in this campsite among a field that was once a Native Ame...
From $120/night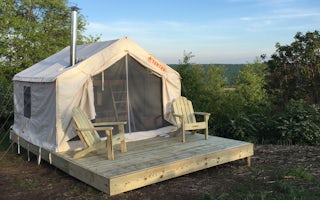 Herndon, Pennsylvania
Located on Mountain Top Road, this 150-acre piece of farmland is completely fields and woods with no buildings in sight. Explore the wo...
From $99/night
See more