Glacial Erratic At Moore Brook
Salisbury, Connecticut
Convenience and privacy make this an idyllic camping spot, located along the Appalachian Trail, near the town of Salisbury.
Camp next to your own Glacial Erratic between Moore Brook with a refreshing swimming hole and a trail up the ridge, past the ski jumps, and on to the Appalachian Trail.

In the opposite direction, a half-mile walk on a dirt road brings you into the center of the village of Salisbury with shops, including a pharmacy and grocery, and great places to eat. There are several local lakes and the Housatonic River for kayaking and swimming. There is a fire pit and picnic table set up next to the swimming hole for you to use. Wood for the campfire is provided. We have four kayaks with paddles and life jackets that you can rent for water-play.

Nearby attractions include the Appalachian Trail, Lakeville Lake, Twin Lakes, Tanglewood, Mount Riga, Tri-Arts, Antique Shops, Millerton, NY, and Great Barrington, MA.

This campsite is equipped with propane heater buddy, queen sized bunk beds in the main tent, and an extra pop-up tent if needed!
Nearby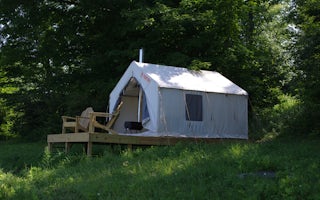 Millerton, New York
Stay at the top of a large private field with mountain views at the highest point in Dutchess County! This cozy meadow campsite is easy t...
From $125/night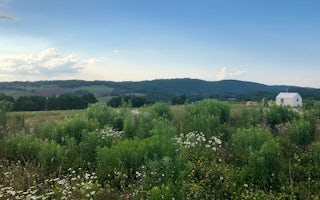 Pine Plains, New York
Come soak in the panoramic views of the Catskill Mountains at Hudson Valley Hilltop! One of two private campsites on the property, this t...
From $169/night
New Marlborough, Massachusetts
This quiet, secluded camp on over 30 acres is a great place to unplug and rewind. There is also plenty to do in the towns nearby! Echo H...
From $150/night
See more
Adventures Nearby
Raccoon Hill is a 3.2 mile out and back hike that takes you past wildlife located near Salisbury, Connecticut.
Appalachian Trail: Salisbury to Jug End Road is a 15.6 mile point-to-point hike that takes you by a lake located near Salisbury, Connecticut.
Lions Head via Appalachian Trail is a 4.4 mile out and back hike that takes you past great forest setting located near Salisbury, Connecticut.