El Reno West Koa
Calumet, Oklahoma
Book through our partner KOA Kampgrounds

Herds of buffalo once roamed Oklahoma, and some of the shaggy beasts still hang around this KOA. The buffalo (in a pen, of course!) are just one reminder of this region's frontier heritage. KOA's paved roads lead to shady or satellite-friendly campsites, a swimming pool, a game room, a fishing pond, pedal karts and an entertaining and unique Jumping Pillow! You're within walking distance of the Cherokee Trading Post, so take time for an evening stroll and see the 150-foot mural depicting the Cherokee "Trail of Tears" and Native American tepees. Then enjoy a buffalo burger and a piece of homemade pie at the restaurant before retiring to your campsite or scenic Cabin. Pool: Memorial Weekend - Labor Day Weekend. Max pull thru: 100 feet.
---
More Places to Stay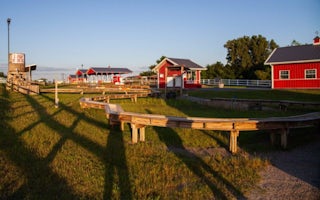 Oklahoma City, Oklahoma
Enjoy an unforgettable, refreshingly different, and truly unique American West camping experience in Oklahoma City!Come stay in our Conestoga wagons patterned after the great pioneer wagons used in...
From $150/night
Adventures Nearby
Red Rock Canyon is approximately one hour west of Oklahoma City, the entrance is on the south side of the town of Hinton. You can easily drive past the entryway if you aren't looking for the turn off to Red Rock Canyon Road. The California Nature ...
2.3 miles
262 ft gain
Figure out how you're going to shuttle your car and kayak. The float begins in Yukon, which is on the west side of OKC. Drive to the center of Yukon and turn north on Piedmont Rd. (Hwy 4) Drive a few miles north to the N. Canadian bridge. Park on ...
The Natural Springs Trail located in Roman Nose State parks is an excellent family friendly hike. The trail is very easy to find . When you come in from the park entrance just keep going straight do not take the right fork.You will keep going for...
0.2 miles
50 ft gain