Crow's Nest Tiny House At Old Crow Ranch
Durham, Maine
The Crow's Nest Tiny House sits nestled on Old Crow Ranch, a 70-acre working livestock farm, a true example of thriving Maine farmland. You'll be surrounded by fields and pine woods in beautiful Durham, Maine.
Just outside Freeport and only 30 minutes from Portland, this cozy space makes for a calming retreat away from the city - for a night or for a week. Fall asleep listening to the peepers and gazing at the stars, drink your morning coffee while looking out at the cattle & chickens grazing in the fields. The Crow's Nest Tiny House will be your space. We've got many great things happening all the time.

A 30-60 minute farm tour given by the farm family is available if you want to see the ranch. Otherwise, make yourself at home in the yard, gardens, and campfire ring right around the tiny house and exploring the woods and pasture right out your front door.

Old Crow Ranch is a pasture-based livestock operation in Durham, Maine. Our hogs and cattle are purchased in-state from other local farms. Our chickens are a slow-growing meat bird, Freedom Rangers, that arrive in the mail from a hatchery in PA at a day old. We practice a rotational pasturing system, in which the animals have access to fresh grass and forage whenever the season allows. Our cattle are grass-fed. Our hogs and chickens are fed a GMO-Free grain mix and forage at will.
Nearby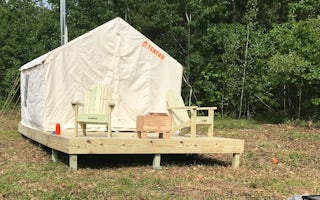 Auburn, Maine
Our secluded campsite is located less than 10 miles from a busy urban area, with an easy bike or car ride to shopping, eating, kayaking a...
From $125/night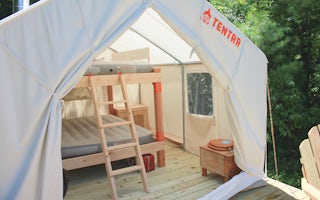 NEW GLOUCESTR, Maine
Your very own private meadow campsite and Royal River frontage for fishing. Over 17,000 brook trout were stocked in the Royal River in 20...
From $90/night
See more