Cooperstown Koa
Richfield Springs, New York
Cooperstown KOA is a quiet, pet-friendly retreat surrounded by farms. It's within 20 minutes of the Baseball Hall of Fame and many other attractions in the foothills of the Adirondacks. Explore historic Cooperstown and watch your team play at Dreams Park. Visit local museums, shops and breweries. You're just a couple of miles from Otsego and Canadarago lakes for boating. The Glimmerglass Festival features international opera talent. In this quiet setting, you'll also see Amish neighbors with horse and buggy. Campers have plenty to do during the day and a tranquil place to rest at night. Enjoy the new pool, Saturday activities, video game room, weekend hayrides and more. Come for a visit, kick back and relax! Pool: Memorial Weekend - Labor Day Weekend. Max pull thru: 80 feet. Your hosts: Kate Kemker & Kaaren Fox.
Nearby
Cooperstown, New York
Most amazing and beautiful location in the area which offers beauty, tranquility and an expansive view overlooking Otsego Lake. Our camps...
From $120/night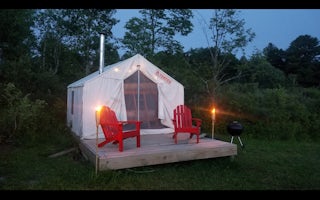 Cooperstown, New York
Come explore the beautiful 14 acres of private property of Horsefeather Farm. With beautiful open meadows that captures the sun and bring...
From $125/night
Cooperstown, New York
Picturesque camping just 3 miles outside of beautiful premiere destination, Cooperstown, NY. Park and take a short walk through maintai...
From $100/night
See more
Unfortunately, we don't have up-to date pricing data for this listing, but you can check pricing through KOA Kampgrounds.
Book Now