China Beach Retreat
Ilwaco, Washington
China Beach Retreat can accommodate up to 9 people, with three guest rooms in the main house. Each room offers an extraordinary vista of Baker's Bay and the mouth of the Columbia River. The stand-alone Audubon Cottage is a separate rental.
Cape Disappointment defines the western horizon. Deer frequently visit, asserting their right-of-way in this natural setting. In the front yard, a heron perches. A covey of widgeon sweep into view. The Oregon Coastal Range glitters for a hundred miles in the sunrise. Coffee and tea service is available all day.

David Campiche and Laurie Anderson owned and operated the Shelburne Inn for forty years. They passed the torch of running that historic property to locals, Brady and Tiffany Turner in 2018. They purchased China Beach Retreat in the Spring of 1998. The couple entered innkeeping due to their love of old buildings, antiques, history, gardens, great food (both its preparation and consumption), great wine, meeting people and under the mistaken assumption that they would have plenty of time to pursue their artistic inclinations on the side.

David is a graduate of Lewis & Clark College, having majored in Fine Art and Laurie is a graduate of Linfield College. Her major was Liberal Studies. David grew up on The Long Beach Peninsula, and as a result, is a storehouse of local information and history. Laurie was born and raised in Seattle, Washington, and traveled widely until she became stuck in the sand on The Long Beach Peninsula, which is how she met David (he pulled her vehicle out). David is a potter and Laurie is a tapestry weaver. They have three sons.
Nearby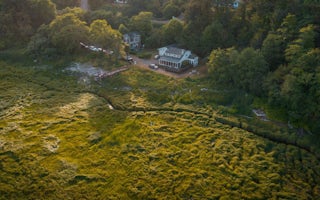 Ilwaco, Washington
The cottage is named after John James Audubon, the patron saint of American ornithologists. Numerous authentic Audubon prints adorn the w...
From $285/night
Warrenton, Oregon
• TurnKey photo-verifies this home is professionally cleaned with products approved by the EPA for use against COVID-19. •A group-friendl...
From $173/night
See more