Bucksport / Fort Knox Koa
Orland, Maine
For a real taste of Maine, your hosts at Bucksport/Fort Knox KOA can happily arrange a succulent fresh "lobstah" feed. It's a true Downeast tradition - just one of many activities you can experience while staying at this convenient campground. The spacious grounds and large recreation hall host nightly card games, weekly potlucks, ice cream socials, kids' crafts, themed weekends and more from spring through fall. Enjoy the pool, playground and Kamp K9. You're just a few miles from lobster-filled Penobscot Bay, part of Maine's scenic coastline. Explore coastal communities like Camden, Rockland and Stonington on drives dotted with lighthouses, beaches and waterfront stands serving fresh shore dinners. Pool: Memorial Weekend - Labor Day Weekend. Max pull thru: 100 feet. Your hosts: Marlene & David Greenlaw.
Nearby
Orland, Maine
This bohemian campsite, situated in one of the most beautiful corners of the Maine Vibes Farm property, is the relaxing vacation you've b...
From $110/night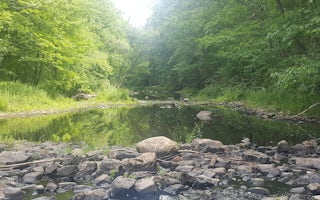 Brooks, Maine
If you're looking for a place to unwind Roaring Acres Farm is a beautiful piece of property set on a hillside with so much to enjoy. Hike...
From $100/night
See more
Unfortunately, we don't have up-to date pricing data for this listing, but you can check pricing through KOA Kampgrounds.
Book Now