Breezy Estate
Big Bear Lake, California
Breezy Estate is a lakeside combination of two cabins next to each other in a quiet Mallard Bay location which is an awesome destination for a large group or multi-family vacation to the mountains.
Together this wonderful combo of properties features two fully equipped kitchens with basic appliances and dishwashers, as well as bay-view dining room areas with table seating for meals.

Both homes each have cozy and warm living room areas complete with comfortable furnishings, wood-burning fireplaces and there is a washer and dryer available for your use.

Breezy Estate is a most relaxing property in a nice mountain setting, with outdoor seating areas and Charcoal BBQ's, plus a shared boat dock available, and within a short walk to the downtown shopping area, this estate has all of the essentials that you will need for the perfect Big Bear mountain vacation!
Nearby
Big Bear Lake, California
The bay-view kitchen is equipped with the essentials including basic appliances and a dishwasher, cookware, and essentials, plus there is...
From $462/night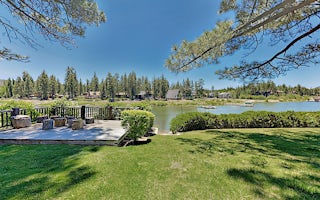 Big Bear Lake, California
• TurnKey Vacation Rentals verifies this home is professionally cleaned with products approved by the EPA for use against COVID-19. • Fea...
From $154/night
Big Bear Lake, California
This charming home provides a fully equipped kitchen with cooking essentials and appliances plus a cute dining room area with a nice tabl...
From $452/night
See more