Regarding COVID-19: Please recreate responsibly and practice social distancing. Closures and travel restrictions are changing rapidly, always check and respect local regulations.
Finding your happy means you'll have to abandon your comfort zone.
Long distance hiking forces you to push your body and mind beyond its limit. Before you can feel victorious, you've gotta go the distance. While you're physically battling the steep hills and long miles, your internal chatter is usually the tougher battle to win. You are forced to talk yourself through the struggle. If you can manage to engulf yourself in the quietness the trail provides, you'll have the opportunity to find an internal peace. Lean into it. It's usually emotional and vulnerable, but it's where I do some of my best self-reflection, to hopefully gain a better introspective lens on my current situations. And I'm not just talking about the current physical situation, I'm talking the struggles you are living back in the real world. So here I am, getting introspective, vulnerable and real.
A few weeks ago, we said our final farewells to my grandma Lois. Hands down, the sweetest person I have known. My brother and I would spend countless sleepovers at her house, which was definitely the highlight of our week, mainly for the obligatory bowl of ice cream if we finished our dinner and became members of the "clean plate club". She was as much a part of my childhood as my parents were. On one of her last days, she turned to her caretaker and told her "Don't forget to get the tickets." "What tickets, Lois?" To which she responded: "To heaven." She was 96. Most of her friends and family would agree, she lived a happy, full life.
This past Father's Day, my dad was checked into the ER. A few days later, he was rediagnosed with colon cancer. It came back. It had spread. Aggressively. Six large tumors attached to the stomach. The doctors estimated he had three weeks to live and released him to the care of hospice. We stood by him, just skin and bones, often too weak to hold a conversation. Sometimes all you could do was just hold his hand while he slept. He made just it two weeks. He was 67. He had just begun retirement and was planning to do all the things he said he would back when he didn't make the time during his career.
To live. What does that mean to you? What do you want to accomplish before you make it to heaven? Your dream may not be inline with the [outdated] American Dream and that's more than okay. But don't wait for some day down the road to live the life you imagine for yourself. You don't know your timeline; it's not promised. Creating space for the life you want for yourself and finding your happy means you may have to say no to things that other people may want you to do or some things that are deemed more socially acceptable. It's going to feel uncomfortable. Discomfort is the means for transformation.
For as long as I can remember, I've been that list-making overachiever. I graduated college summa cum laude, while playing soccer on the club team and being an active participant of all the organizations related to my major. Received a full scholarship to a top-25 masters of accounting program. Started work with a big-4 firm and got my CPA. All by the age 24.
Cool! I checked off everything! Okay like, now what? Common, tell her what she's just won! Well now, you get to live a life in a cube! Uh, come again? Did I just get dupped? Why didn't anyone tell me it was going to totally suck! It did suck. I hated it. Forcing yourself to get up and muster something resembling motivation for another 12 to 16 hour day is no easy feat. And the worst part was, it took up all the time from things I actually enjoyed doing. I learned to resent it. But I was promised work life balance! Such a cute term, really. I was starting to climb this corporate ladder, one that wasn't going to get me any closer to anything I truly was passionate about. At least not anytime soon.
The world will tell you how to live your life if you let it. Be brave enough to take the wheel and drive your own life, whatever that means to you. If you're doing something that is not fulfilling to you, why not take a risk? Could any alternative be worse? Maybe ask yourself what you'd like to be remembered by, what I like to refer to as the eulogy standard. Is anyone really going to care what your resume looked like? **rolls eyes** Maybe focus on things like being an amazing friend, sibling, partner, child, parent, etc. Maybe learn as much as you can about yourself and the world. Travel more. Give your time back to your community or a cause you care deeply about. Make some fitness or health related goals. Build meaningful connections with people you admire. Find something you're passionate about and throw your energy into that. I'd be willing to bet that's how you have the strongest, most positive impact on those who get to encounter your greatness.
Well, it has taken me about 5 years, but I finally said no more to that hamster wheel of working nights and weekends, eating three meals a day at my cube for 27 days straight during a busy season, having half the year full of blackout dates (aka no vacation or travel), etc. Sounds fun right?! Bottom line, a career isn't going to fulfill me, at least not in and of itself. If a demanding career happens to be your thing, bless your heart, and by all means, you do you.
The first thing I did that Friday after I left that cush Fortune 500 job? Me and a good friend, my tribe calls Charging Bull, drove out to the San Bernardino National Forest to take on SoCal's tallest peak, Mt San Gorgonio. We camped Friday night at the San Gorgonio CG to help get acclimated to a higher elevation. We woke up at sunrise and hit the South Fork trail. The hike is approximately 25miles roundtrip with an elevation gain of 4,600ft to get you the summit at 11,503ft. It took us a total of 10 hours: 5 up, 1 at the top, 4 down. But we crushed it! Blistered feet, sore knees, but a smile ear to ear. Now, that's the kind of ish that makes me feel most alive.
For now, I'm riding that unemployment wave, and I'm not exactly not sure what's next. I know I want to use my career as a means to do the things that make me feel most alive. Not everyone is going to understand it, and that's okay. They're not the ones having to get up and live that life everyday. Those that not only get it, but are by your side celebrating the true you, well that's your tribe. Keep those ones close, they're gold. I know my dad and grandma are smiling down, sending me hugs and high fives as I continue my journey towards uncharted territory.
I also know that one of the greatest things you can do for yourself is to accomplish something you didn't know you could do. To set your own bar and then surpass it. That's what living is all about to me. So whatever is next, rest assured I will be setting and resetting my own bar, on my own terms.
Using pain as microphone and a newfound compass.
Xoxo,
Chief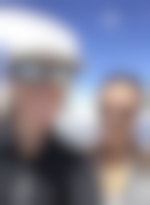 We want to acknowledge and thank the past, present, and future generations of all Native Nations and Indigenous Peoples whose ancestral lands we travel, explore, and play on. Always practice Leave No Trace ethics on your adventures and follow local regulations. Please explore responsibly!
Go Pro.
We're committed to building a better, more inclusive home for the modern outdoors. Go PRO to support our mission and get benefits like gear deals, no ads, and more!
Join the community
Learn More
Do you love the outdoors?
Yep, us too. That's why we send you the best local adventures, stories, and expert advice, right to your inbox.