6 Best National Parks to Visit With Children
Nature and exploration is an important part of healthy childhood development.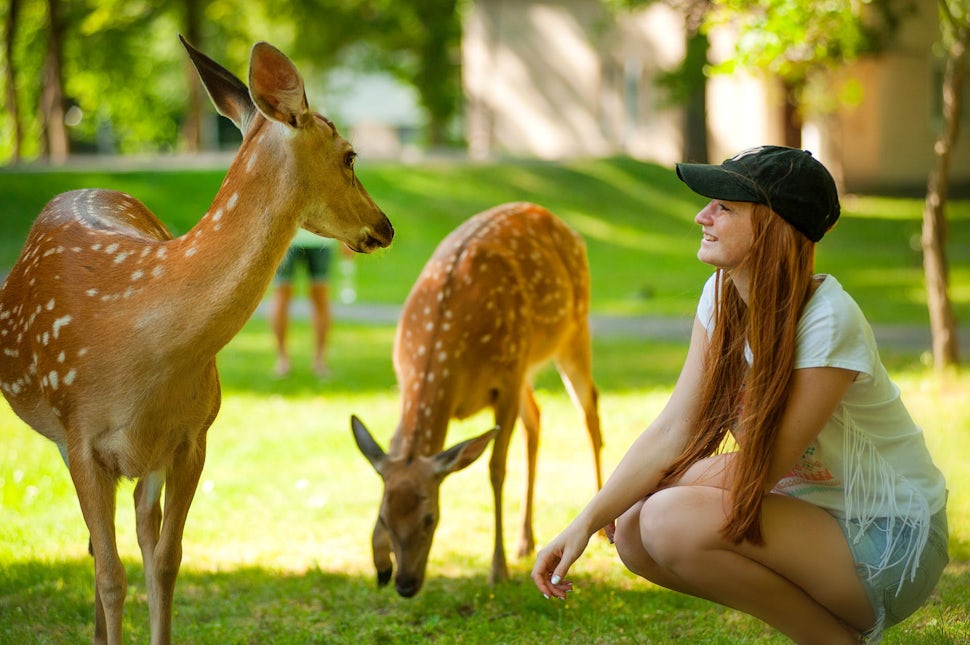 Exploring nature is an important part of any child's development. While a majority of what children learn happens on paper, or in the classroom, this holds little weight in comparison to what they can gain from real life experiences. Combining the two brings color and expertise to a child's life.
Not many places are as enriching in this way as the various national parks across the United States. They carry science, geography, and history lessons all in the same package. When children observe wildlife and nature in particular parts of the country, chances are that they will also learn what differentiates those areas from everywhere else. Traveling to these parks is an essential part of a well-rounded educational experience.
If you want them to be truly engaged and inspired by what they see, you'll want to go to the optimal national parks for kids. So what are the best of these parks to visit? Here are just six answers to that question, all of which will produce a wonderful educational experience for you and your kids, as well as strengthen your family connection.
Yosemite National Park
Location: California
Backpack to Yosemite's Eagle Peak via Yosemite Falls | Photo: Andrew Upchruch
One of the most-visited national parks in the country, Yosemite National Park resides on the border of Nevada from Northern California. The variety at Yosemite National Park is breathtaking. Here, your kids can experience many of the most beautiful wonders of nature in one place. You could also have your kids sworn in as Junior Rangers! National Park Trips Media states:
After they complete a small workbook, go to a ranger program, and pick up some trash around Yosemite: kids can wear their Jr. Ranger badge with pride! Along the way they will learn about the wildlife in the park, and pick up some amazing info from the rangers. The kids will love the experience and be honored to be a Yosemite Jr. Ranger.
This is in addition to getting sprayed by waterfalls, ice skating and eating ice cream, normal campfire activities, and seeing all kinds of natural wonders. Yosemite will be a wonderland for your kids and should certainly be at the top of your list for a family vacation.
Grand Canyon National Park
Location: Arizona
Bike the Hermit Road at he Grand Canyon | Photo: Sarah Neal
There may be no bigger experience (literally) for an American child than visiting and viewing the Grand Canyon. As you may know, this spot in Arizona is known for its vast depths and beautiful rock-itecture, but there's more to it than that. It's been noted that the sight reveals 40 percent of the Earth's history, being older than the dinosaurs itself!
A child's experience with the Grand Canyon may be different than yours, so you will want to be intentional with how you cater the trip to them. Thankfully, National Geographic interviewed botanist Mike Masek, who had an expert recommendation for helping kids to enjoy the Grand Canyon.
Each child should spend time hiking below the rim. The immensity of the canyon makes people think big. While this is rewarding, the true nature of the canyon comes alive upon closer inspection. As they are walking down the trail, have the kids stop and look back up to see the work that went into building the trail. Point out the transition from one rock layer to the next. Encourage them to think about the different body responses they experience when descending and climbing.

Grand Teton National Park
Location: Wyoming
Camp at the Jenny Lake Campground | Photo: Christina Warburg
If you were to Google "best National Parks to take children to," you would come across many bloggers espousing the wonders of the Grand Teton National Park. It's an excellent spot for nature hikes and backpacking, as well as wintertime activities like skiing. Be sure to pack and plan appropriately to get the most out of your experience, particularly if you're looking forward to hitting the slopes!
Jurga, (owner and writer of the travel blog Full Suitcase) wrote that her favorite thing to do with her kids was actually boat riding and hiking.
There are many great hikes with kids, but my favorite would be to take a boat ride across Jenny Lake and then hike up to Inspiration Point. The trail isn't too steep and offers many viewpoints across the lake along the way. The very top is a bit narrow and has steep drop off so it's better for families with older kids (keep a close hold on younger children).
Hold on tight and enjoy your time in the Tetons!
Great Smoky Mountains
Location: Tennessee
Catch a Sunrise at Newfound Gap | Photo: Matthew Chang
If you read the name of the Great Smoky Mountains, it may not sound like the best place to take a child. You may be thinking, "I don't want my kids around secondhand smoke or in the danger of a volcano!" Jokes aside, it's actually named as such for the blue mist that surrounds the mountains, not actual smoke.
The people at My Smoky Mountain Park themselves put together a nice list for things to do with children while visiting. Here are a few of the most intriguing:
Bike riding through Cades Cove

Climbing to high points (potentially near the Appalachian Trail)

Family adventure programs

Horseback riding

Inner tube floating
This may be a good summer spot for your next family trip when school's off!
Redwoods National Park
Location: California
Explore Fern Canyon | Photo: Juan Moreno
Back to the sunshine state, the Redwoods National Park is a sight to be seen if there ever was one. There are actually tree trunks so large you can drive your car through them (see: Chandelier Tree). The entire forest is like a treehouse for your kids.
Sitting along the Humboldt coast, just below the border of Oregon and California, this park holds the world's tallest trees (which you may have gathered from the idea of driving your car through one). Where a child may not generally love sightseeing, there's a good chance they'll find themselves in awe at this, especially if they're the tree climbing type.
Coast Redwoods are the tallest trees in the world. If you aren't used to something like this or don't live in a particularly green area, it's difficult not to be taken aback by it. Just ensure you prepare carefully and that your car will not only fit through the trees, but that it's in working condition to drive through the woods.
Yellowstone National Park
Location: Wyoming
Drive the Grand Loop in Yellowstone NP | Photo: George Wilson
Last but certainly not least is the famed Yellowstone National Park. The culture around it can make it quite spendy, so it may be wise to travel there during the offseason. However, it's an experience your kids must have at least once in their lives. Who better to share it with than their parents?
With a foot in three different states, Yellowstone is an opportunity to teach your kids about our country's geography. Additionally, Yellowstone's Old Faithful geyser has famously shot out boiling water every 90 minutes since 1870.
There is another implicit learning opportunity here as well. We3Travel wrote an article about taking your kids to Yellowstone and the specific opportunities it brings to teach children about sustainable tourism and safety around wildlife. A young age is perfect to learn this, as it will follow them the rest of their lives.
Visiting the National Parks is a good time to teach the kids about responsible tourism. Not only does this include "Leave no trace" principles when it comes to carrying out whatever you bring in, but it also means teaching them not to be a touron. This includes being responsible around wildlife … No selfies with bison and no walking up to bears or elk. When [travel guides] say stay back, it is for a reason.
Teaching children how to interact with the world around them and not just be observers, is important. Yellowstone can help with that. Similar to Yosemite, Yellowstone park has what you need to take your kids swimming, wildlife watching, and show them the wonders of the natural world.
From the Grand Canyon to Yellowstone, the Merced River to Coast Redwoods, and your car to the hiking trails, the United States has some beautiful scenery for you to enjoy. These are a few of the best national parks to attend with your kids. Which are your favorites? Let us know in the comments below!
We want to acknowledge and thank the past, present, and future generations of all Native Nations and Indigenous Peoples whose ancestral lands we travel, explore, and play on. Always practice Leave No Trace ethics on your adventures and follow local regulations. Please explore responsibly!
Do you love the outdoors?
Yep, us too. That's why we send you the best local adventures, stories, and expert advice, right to your inbox.