How I Landed a Job as an Outdoor Guide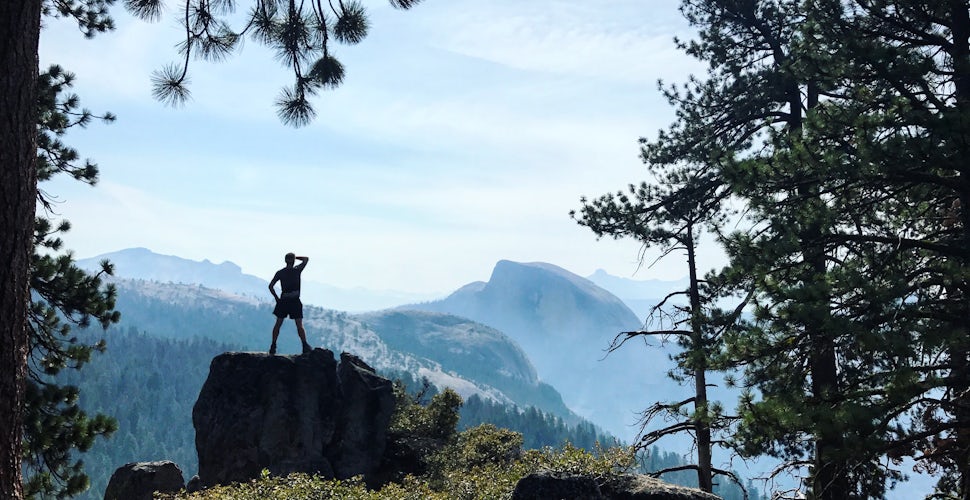 A step by step guide to help you navigate the wilderness that is outdoor job hunting.
This one goes out to those who are dying to work in the outdoor industry, who are passionate about the outdoors and sharing it with others, who are more than willing to live a somewhat unconventional life for the sake of greater time spend outdoors. This one goes out those who want into this field, but don't quite know how to swing it – I've been in that position before, so here are some tips on how to land a job as an outdoor guide.

Pick Your Field – Most outdoor enthusiasts have a certain sport to which they gravitate. Be it backpacking, rock climbing, mountaineering, etc., people tend to know the most technical skills about the activities they primarily engage in. If you are looking into becoming an outdoor guide, it would behoove you to focus in on the realm of the outdoor industry that you know the most about. It seems intuitive, right?
Get Experience – Much like any corporate company would only pick the most qualified and knowledgeable candidates for an open position, the same goes for any outdoor guiding company; they are going to go for the most qualified guides with the most intensive outdoor experience. However, much unlike any corporate company, this experience does not necessarily need to be paid. If you are interested in becoming a backpacking guide but have little experience, grab some friends and go on some backpacking trips! Buy the necessary gear and go through the trip planning process. Not only does this give you an idea of whether or not you would actually enjoy doing it every day, but you can also list these trips and experience on your resume. This will show companies that you know what you are doing when it comes to backpacking (or whatever outdoor activity you are going for).
Get Knowledge – Knowing how to backpack is not the only qualification of a backpacking guide. A good guide also has invested in a wealth of knowledge about the area in which he or she is guiding. This includes understanding the ins and outs of the local plants, animals, geology and history and being able to explain these facts to your clients. Outdoor companies will want to see that you already know a bit about where you would be taking their clients. Remember, the field of guiding is in the service industry. The better you perform, the better your clients will respond in terms of good reviews for the company and better tips for you. If you're interested in guiding in a specific national park or recreation area, put in the time both physically by getting to know the landscape and mentally by doing your research, and you will be a lot more competitive as an applicant.
Get Certified – Working in the outdoor industry generally requires many technical skills, resulting in the need for a standard of knowledge and skill to which companies must hold their guides. The types of certifications depend on which activity and environment in which you will be guiding. Also, some companies expect more of their guides than others in terms of certifications. While you are preparing your resume for your outdoor job application, do some research into what certifications are generally required for the position, and take into consideration the time and money it takes to acquire these. Most likely, if you want to do any sort of guiding for any reputable adventure company, you will need your Wilderness First Responder (WFR). This is an 80-hour course, typically spanning over the course of nine days (some may extend longer) in which you learn the necessities of responding to medical situations in the wilderness. More information about the WFR can be found through the websites of both NOLS and SOLO. Believe it or not, this is one of the least intensive certifications needed. If you are interested in going into rock climbing, river rafting, mountaineering, etc., you will need to put much more time into preparing your skill set with more specific certifications.
Get Searching – If you have done all of these steps (not necessarily in numerical order), then now is the time to really start looking for jobs! What may start out as a fun internet search can quickly turn into a very tiresome chore, so it is important to know how to refine and organize your hunt. A simple Google search such as 'backpacking guiding jobs' is always a good start, however you might need a more tailored approach. Websites like environmentaljobs.com, backdoorjobs.com and even theoutbound.com/jobs have compiled lists of outdoor job offerings, often organized via activity or geographical area of interest. These websites are where I found the most success. As you are combing through the masses of job ads, be sure to separate relevant job ads in separate tabs and windows or make lists of them on paper. This can keep you from getting lost in the abyss of job postings. You could even separate your lists or rank the ads from order of importance or interest to you. Before you put these jobs on your application list, however, make sure you have all of the requirements listed! This may seem like a silly reminder, but it is easy to get sucked into a super interesting job posting and glaze over what is required of you as an applicant.
Get an Interview – Hopefully by now, you have garnered all the experience, knowledge and certifications and have sent in a killer (and timely) application. Like any other job, if offered an interview, make sure to prepare beforehand! Yet, unlike any other job, you should be aware that interviews for guiding positions are often situationally based. This means that the interviewers will likely give you one or several "situations" that could happen on the job and ask you how you would respond as a result. This may sound intimidating, however the answers they are often looking for are fairly intuitive and just depend on you determining what is best for the company and safest for the clients. It would be very helpful to anticipate situations they might ask and think of how you would respond beforehand; you could even Google search advice for this situational type of interview as well.
Get a Job – If you are vigilant in your efforts and sincere in your passion for helping others get outside, you will likely be noticed by the employers you target. If you love adventure and being in the wilderness, guiding is one of the best jobs you could land. However, life as a guide is not always as glamorous as it seems. Yes, you get paid to be immersed in nature for days, weeks and/or months at a time, but your experience can often be tarnished by uncooperative clients, nasty weather, dangerous situations and large levels of responsibility for the safety of your clients and the reputation of your company. It is important to consider all aspects of this job before jumping right into it.
I hope this mini-guide helps in your journey toward the outdoor industry! The earth needs more compassionate stewards of this environment; if you do choose to pursue a guiding job, please use your influential position to encourage future clients to similarly care for the environment as well!
We want to acknowledge and thank the past, present, and future generations of all Native Nations and Indigenous Peoples whose ancestral lands we travel, explore, and play on. Always practice Leave No Trace ethics on your adventures and follow local regulations. Please explore responsibly!
Do you love the outdoors?
Yep, us too. That's why we send you the best local adventures, stories, and expert advice, right to your inbox.