Why Your 40s is the Best Time to Go on a Grand Adventure
Should age be a factor when you go for your ultimate dream trek?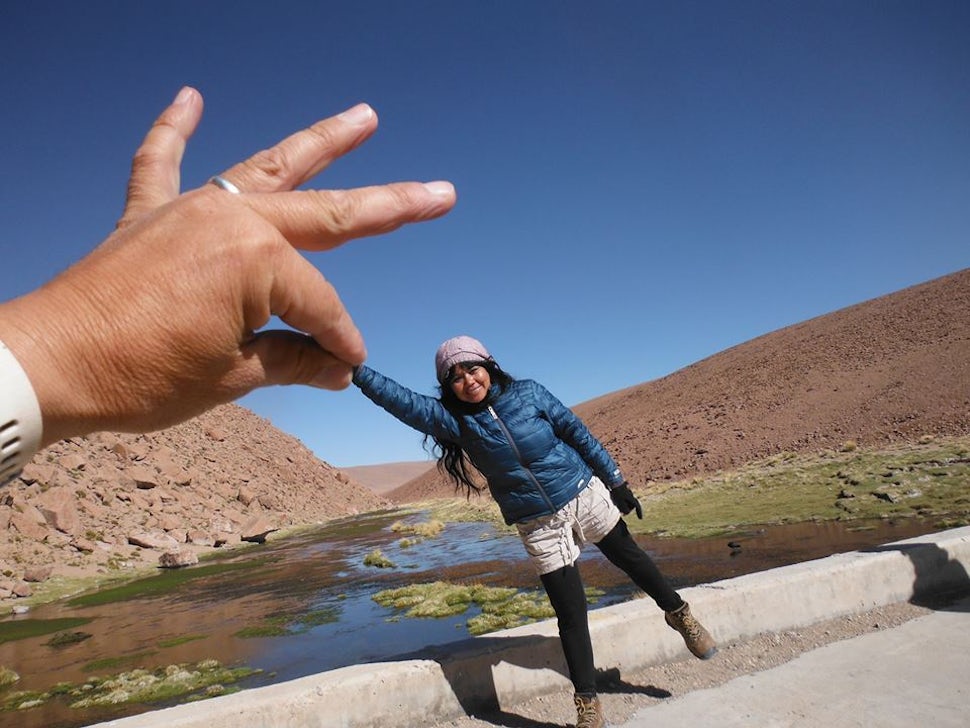 Quit your career when you hit your 40s. Seriously, quit it and take on some grand adventure. Take a break from it all and just indulge in guilt-free freedom. I know. That sounds so against the norm. After all, it makes more sense to tell you--

"Don't quit your job, pretend you like it, pay your bills, and if you're single, then hurry, and find that partner!"
Two years ago, I wrote an article about how it felt to be a global backpacker in my late 30s. In that article, I confessed my feeling a tiny bit awkward carrying a 70 liter pack as I mingled with the millennials at hostels. Two years later, I'm thinking, why the hell not?
While so many in their 40s re-evaluate their progress in life by looking at the increase in their income, their career progression, the success of their marriage and the existence of children in their lives, this doesn't have to be the case for everyone who reaches this age.
In my world, my 40s is meant to be spent outside playing. To be more exact, it's meant to be spent hiking and trekking countless mountains, and then some. At first, I too, felt this was such an insane idea. And perhaps, my dream of becoming a mountain/digital nomad frolicking around the globe was simply too late for me to pursue and that maybe I missed my chance in my younger years. It took time for me to realize that doing this at an unpopular age of 40 is actually a blessing in disguise. In fact, it's the best time to partake in a major extended travel or adventure. If you are in your 40s and are fortunate enough to get a chance to partake in a grand adventure, then I'd say go for it! Here's why:
In your 40s, you are past many of the insecurities that you had in your 20s. Your 30s typically are spent challenging the existence of every insecurity you might have that was carried over from your 20s. As we enter 40s, many of us have more or less learned how to deal with our insecurities and hopefully most of them were outgrown in the process. By getting to this point, our adventures tend to be more meaningful and devoid of unnecessary stress. Forgetting to bring that nice evening attire to look good on a trip wouldn't dampen our spirits nor do we care if we need to skip showers for the sake of enjoying a life-changing trek. Petty things dwindle as we age and that's priceless. Anyone who has yet to reach 40 should be jolted with excitement to look forward to a much more carefree version of themselves.
Assuming you have spent part of your 20s and all your 30s building your career, by the time you're 40 you know you have built yourself a solid career. There's no longer a question whether you're a real doctor or a lawyer or an accountant because you are! We manage to shrug off the other set of insecurities - those that challenge our ego as to whether we are good enough at what we do. Heck, yeah, we are! So, go on that adventure and remember if you tire of it, you can always come back to that career that you built. If not, chances are, by the time you're 40, you have established skill sets that can be transferable to other types of endeavors. If that company doesn't rehire you, with creativity and persistence, you can even start your own company and run it in your own way. Either way, you come out on top.
With over two decades of adult life experiences under our belt, being 40 should render us more courageous and fearless. We've been hurt, disappointed, criticized and fired. But we lived and survived. We ought to know by the age of 40 that failure is merely a redirection. We no longer cry or get angry over it. We just strive to find another route that we believe will take us to where we need to be. By this time, we experience lesser amount of invalid fears and worries. We trust life more and allow it to bring us closer to our desires. In our travels, we then find no reason to stress out when itineraries fail. We lived long enough to realize that unexpected events happen for a reason and so we refrain from fussing in the same manner that we did when we were in our 20s. We just let most situations be, regardless of whether they're wanted or not.
We are likely to be richer than the younger version of ourselves, and in some cases, fortunate enough to pay off a mortgage or student loan. When we compare ourselves to others, sure, we might say we're broke but if you were honest with your situation, you'd soon realize that graduating from college or grad school had led you to incur thousands of dollars of student loan debt. By the time you're 40, you would have had at least a decade to pay off some or most of the loans. That's something to smile about since that only means more money to put towards that grand adventure. And if you're the savvy kind, you may even have an investment or two which will then afford you more disposable cash for your grand adventure. Lucky you!
Do you feel wiser now that you're 40 or older? I hope so. That's the point of living - growing and learning and then growing, and learning, and so on and so forth. By the time we're 40, the expectation is that our life experiences should have taught us a thing or two about love, loss, success, failure and everything else in between. By 40, we're likely to know ourselves and our goals better. But if not, we ought to have enough tools to figure out our own destiny in our own way. All that therapy and counseling should have yielded the outcome we hope for by now. We are ready to re-do everything - relationships, career, and even ourselves.
Simply put, when you're in your 40s, you hardly give a damn. Nothing will ever be as serious as when you were in your 30s. In your 40s, you begin to realize life starts over again. But, this time around, you'll makes sure it'll be done in a more lighthearted fashion. After all, this is the age when your health becomes more relevant and therefore stress is your number one enemy. In your 40s, you naturally start to value your time and how you spend it upon realizing that life is limited and that success is defined by the frequency of joy in our lives. You also begin to enjoy the authenticity of being "you" without giving into societal pressures and living our lives based on others' expectations. True to not giving a damn, you do what your heart tells you even if it's unconventional and weird. Doing so doesn't at all make you feel uncomfortable; rather, it makes you feel empowered to be "you."
As a result of wisdom gained over the years, you know what you want when you reach 40. When you decide to travel extensively or become a nomad of some kind, you mean it. You have never been this sure in your entire life! Since you now value time more than ever, you wouldn't just quit a career that you put forth effort, money and time just to travel without a purpose. You are deliberate in your decision to travel on an extended period of time or even for a lifetime! When you decide to venture into some kind of an enterprise to give you that freedom to roam the world, you initiate it with all your might. In fact, you have never felt this driven in your life because this time around you are answering to the calling of your deepest desires. And you simply know you have to go that direction even if the path can get bumpy along the way. You know that if you traveled in your 20s, it would only be temporary because you have yet to experience the contrast of the life of a 9 to 5 to decide honestly whether a life of travel is for you. In your 30s, traveling is a break from the 9 to 5 but you may still be uncertain as to your true desires or unskilled at the endeavor you wish to pursue or still in need of wisdom to learn how to succeed or have yet to muster the courage to risk it all. So, rejoice in taking a leap of faith in your 40s because chances are you've gone through all the necessary steps to finally be ready to experience a real adventure.
As you can see, being in your 40s should not be the reason not to travel; rather it should exactly be the reason to do so! You're in the prime of your life and you have nothing to lose except the opportunity that you can create for yourself to experience the greatest adventure of your life. Don't hesitate for a second to hop on that adventure. Don't doubt yourself, and most certainly, don't doubt your desires. Do it now!
To learn more about Brown Gal Trekker's plans on leaving her job and becoming a mountain nomad, check out her podcast:
ON MY WAY! FROM A LAWYER TO A MOUNTAIN NOMAD (intro)
Episode 1: Should I Stay or Should I Go? Reasons To Leave My Career
We want to acknowledge and thank the past, present, and future generations of all Native Nations and Indigenous Peoples whose ancestral lands we travel, explore, and play on. Always practice Leave No Trace ethics on your adventures and follow local regulations. Please explore responsibly!
Do you love the outdoors?
Yep, us too. That's why we send you the best local adventures, stories, and expert advice, right to your inbox.