Why I chase waterfalls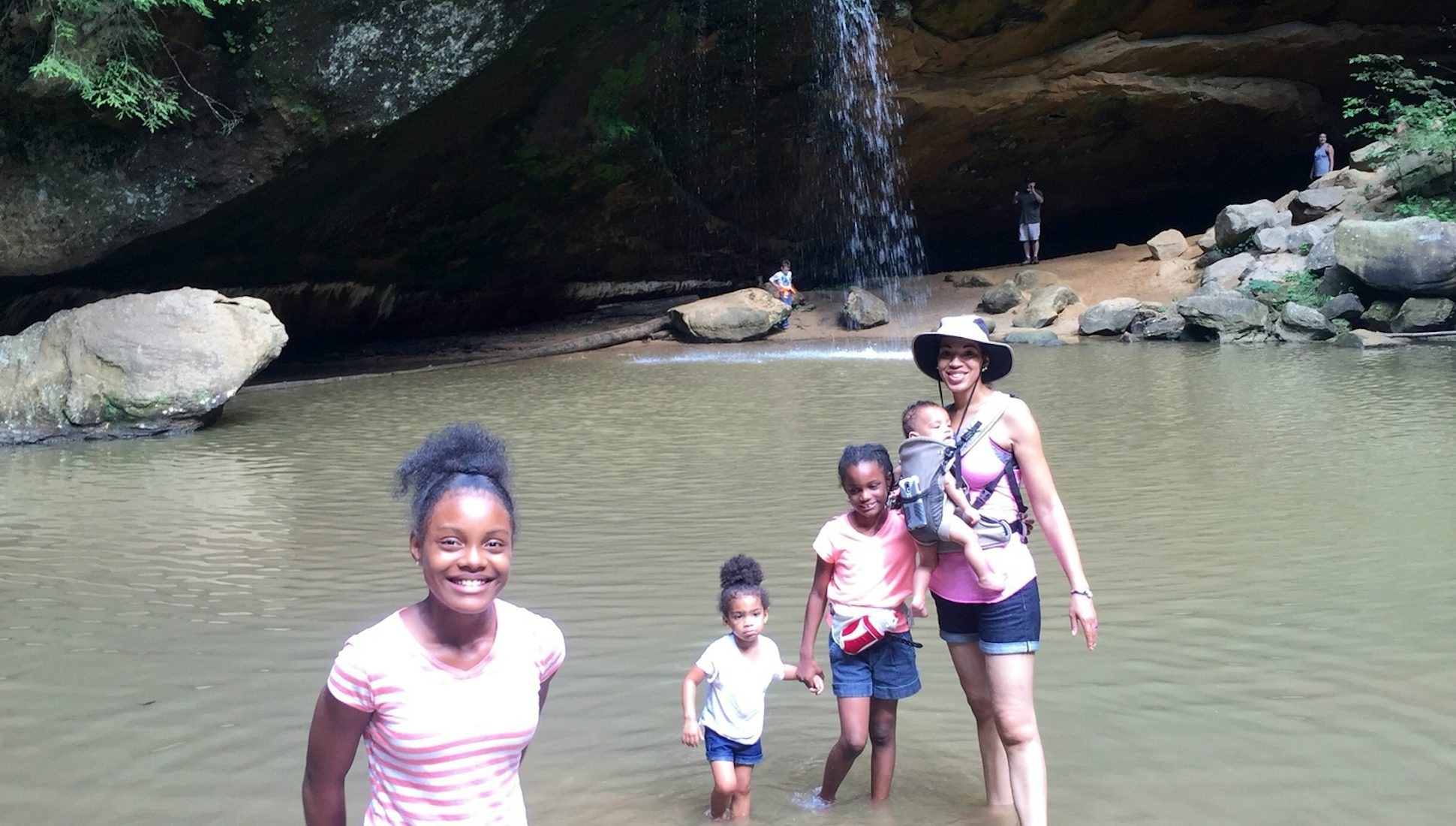 Finding waterfalls to find my family.
I am raising three daughters and a baby son in an era of "digital chilling" which means kids use apps that video chat and message to hang out instead of actually going outside and playing with one another. I am not against kids using technology but I am a firm believer there should be a balance. The issue really didn't hit home until I recommended my children go outside one beautiful day and my oldest reply was, "Dad, there is nothing to do out there." I was blown away. My response was, "Use your imagination." The look on their faces was one of confusion. Again the leader of my tiny pack spoke up, "Dad, we don't have imaginations." I felt a pit in my stomach of failure as a father and especially as one that considered himself an outdoorsman. I realized I had been so consumed with my corporate employment and running a small business I had neglected to aid my children in learning to love the great outdoors. From that day on I decided to help my children find their imaginations, and I thought outside was the best place begin the hunt.
I declared every weekend "Operation Chase Waterfalls" for my entire family during the summer. A mandatory event for us to pack into our minivan and spend the day hiking, picnicking, camping and always finding a new waterfall to explore. They could get as muddy as possible without any concern of being the well-groomed children we were training. Even my wife would occasionally join in on jumping in creeks and chasing tadpoles with our three year old. Every Friday evening or Saturday morning, out of the city we would go to find new adventures and their imaginations.
There were only a couple of rules:
All electronic devices had to be powered off upon leaving our driveway

You must prepare a story, fiction or non, to tell at camp or during the hike to encourage fantastical thoughts or critical thinking  
At first my tweens thought this was a form of torture. No cellphone, no Wi-Fi, and only family to past the time in the woods. They tested my patience in a number of ways. They ways that only young daughters can jump on a father's nerves with outfits, hormones, and bickering. It was hours of an imperfect family in a car trying to find something that seemed very rare at the time. Something that people speak of but don't know how to experience any longer. In order to find my children's imagination I was going to have to find a way for my whole family to connect. Not like LinkedIn, or any other social site. We had to actively engage in conversation, play, laugh, learn and grow together. In all transparency this was as hard for me as it was for them. The outdoors was my escape from the world, work, family and responsibility. Sharing this world with them made me feel as though they were somehow taking what bit of peace I had left. How wrong I was to be so selfish. Let me explain why.
I noticed positive changes in my family as individuals and as a unit almost immediately. My oldest daughters actually had a conversation without screaming at one another. An almost impossible feat since the younger of the two also joined the tween ranks. They began to work together and problem solve issued that I gave them to work as a team. They were charged with navigation of trail maps, locating water sources and making sure their younger sister didn't get sprayed by skunks. I watched their confidence bloom in one another and their abilities to navigate on and off trail. That confidence came home with them but the team work is still a work in progress once we get out of the woods.     
Our three year old wakes up every morning with thoughts of waterfalls. She says she visits far off falls in her dreams. She has also grown very fond of the outdoors and just dirt in general. She runs the trails faster than I can keep up now and I have to call her to stay in sight as she frolics ahead with our dog Max, who she thinks of as her protector. She tells me stories of how she will always live in the woods and my heart warms.
 All three of my daughter's imaginations have expanded along with our relationship. Their creativity with verbal and written short stories are simply amazing. They now use their cell phones and tablets to explore far off places. YouTube is now a place to find new waterfalls and used to plan adventures. I can hear them playing outside under my window as they create tales of wonder with our three year old usually playing a princess. A dusty, scar kneed princess but a princess nonetheless. The world to them is no longer just concrete, plastics, and steel. It is now full of trails, trees and waterfalls.
We want to acknowledge and thank the past, present, and future generations of all Native Nations and Indigenous Peoples whose ancestral lands we travel, explore, and play on. Always practice Leave No Trace ethics on your adventures and follow local regulations. Please explore responsibly!
Do you love the outdoors?
Yep, us too. That's why we send you the best local adventures, stories, and expert advice, right to your inbox.