A Trip That Tested My Will To Live
Trekking, something I thought I'd never do. With every step I took, I thought never again. But the moment, I reached the peak, the view changed EVERYTHING. Stamina included!
This was a mandated vacation. A trip I was totally looking forward to and dreading at the same time. Looking forward for the obvious parts, I was going to explore a new place, I was impatiently waiting for the new experiences and the new people I was going to meet. Dreading,for the last time I worked out was way back in 2013 and this was a trek. A beginner level trek, but a trek, alright? Although I didn't train for the trek much, apart from morning jogs which were pretty much just a stroll with my best friend, my shopping started 2 weeks in advance. Ordering all the essentials off Amazon, Decathlon, and every other online shopping website I could think of. I was worried about spending a fortune but then coupons helped a lot. Especially with the flights. After having a countdown of close to 2 weeks, the day arrived. The day we would be traveling to Delhi from Hyderabad. I was all set to go on this amazing journey with nothing but a trekking bag with all the essentials.
The essentials being-
Warm clothes( the temperatures go low, pack more of these if you are used to the sunny weather).
Clothes like jackets, raincoats, poncho, caps , socks, and gloves. It tends to rain a lot so it's good to pack clothes that are waterproof as well.
Trekking shoes
Sleeping bag
Tent
Tissues( toilet papers and wet tissues)
Tampons or Pads( even if your dates are nowhere around, high altitudes may cause it)
Trekking stick
Water bottle
Sunscreen
Medications
Energy bars to snack upon
* Carry travel sizes of everything. Just take the basic necessities.
Also another word of advise, as easy it may seem to wear contacts, I would suggest to avoid it. In high altitudes, it might just irritate you.
Day1:
So the journey began from the moment we got out of the Delhi Airport, there was a pre-booked van already waiting for us. And then began our overnight journey to Rishikesh. It's an overnight road journey. So if you are prone to motion sickness, I advise you take the necessary precautions, whether it is taking the medications or calling dibs on the window seat or whatever precaution you can think of. Depending on your driver and when you started, you'll reach Haridwar, a Hindu pilgrimage site a little before the sunrise. We reached around that time as we started around 11:00 PM.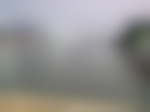 Haridwar around Sunrise

Day 2:
So after having our morning tea/coffee, we headed off to Rishikesh, that is about 45-minute drive from Haridwar. Where we relaxed for a bit, had our breakfast, and walked around checking out the local stores. Do try to get yourself a Tibetan Singing Bowl, it is one of the most calming things that exist on the face of Earth.
One of the must-see places around Rishikesh is the Lakshman Jhula. It is a suspension bridge across the river Ganga(Ganges). The story behind the name of the bridge is that- it is said that Lakshmana crossed the area where the bridge was later built. It is also said that he crossed the area on jute ropes. It's a beautiful place nonetheless and one of the first places I fell in love with on the trip.
Lakshman Jhula
After a lazy morning and a little of the afternoon we started for our next destination, Sari. A beautiful village and a base camp for the Deoria Tal Trek. The base camp I stayed the night was at 6600 feet( 2010 mt) above sea level. We reached the village around night time where we freshened up and had our dinner and instructions were given to us on what to expect for the next few days. What to carry, how to pack your backpack, what to keep handy, who to team up with. Yes, there is a technique on how to pack your backpack so that the load is divided equally and you won't feel the exertion for no reason.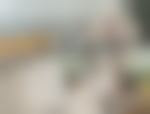 Lakshman Jhula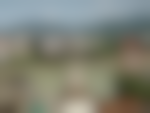 That night, I just fell flat on the bed. Woke up the next day. Road journeys make me sick. Even the excitement for the next day's trek couldn't keep me up. Also, I knew this is the last I am seeing the comforts of a bed for the next entire week.
Day 3:
The next morning, a nice sunny day, went exactly how it was supposed to. We got ready and headed to the local school where we spent the entire morning teaching the kids. It was so rewarding as the kids were so eager to learn. I taught the kids English for a bit and the rest of the time we just got to know one another. It wasn't exactly easy as we spoke very different dialects of the same language. Before leaving the school, we distributed stationery and chocolates to all the students.
After leaving the school, we went back to the base camp hotel to pick our bags and start the trek. Little did I know it was going to be so physically exerting. Now, I just wanted to go back in time, push the sleepy me out of the bed to go work out and increase my stamina. It was too late. So we started our 2.5 km Deoria Tal Trek. We were split into 7 pairs of two, I was paired up with the tour guide, two reasons being I'm geographically challenged and had high chances of getting lost and taking the person I was paired with to the middle of nowhere and also I almost always ended up being the last person to reach anywhere( Zero stamina). So after what seemed like an eternity and taking close to 17 breaks, I reached our resting point.
The Deoria Tal
The Deoria Tal which is situated on Chopta-Ukhimath, where we set our first base here. Over there we were taught how to pitch a tent. We rested for a bit and then went for a small walk in the forest where were given a brief idea about how to find your way out. The most I did here was make a walking stick with one of the branches and walked around the entire forest holding someone's hand and saw a snake. Also I was majorly out of breath. The place where we had to go for meals was (at) quite the distance. Heads up, the food you are going to get there is Vegetarian. After our dinner, we were stuck there for a long time as it started to rain and I was barely wearing clothes that could keep me warm. I shivered a lot and the rain made it impossible to build a bonfire. We ended up going back to our tents in pitch darkness with nothing but head torches and the pouring down rain. After going back a bunch of us stayed up bonding over fond nostalgia of the good ol' days. I went back to the tent and I just passed out. After all, I just accomplished something I never thought I'd- I completed a trek. A beginner-level trek but trek, alright?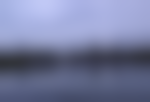 Deoria Tal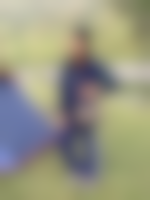 The Deoria Tal Base Camp's Tent
Day 4:
The next day, around afternoon we started for our next destination. The base camp for our Chandrashila trek. At this time the group got divided into 2. One who wanted to do an additional 6 km trek and another who wanted to go back to the village and go by road to the base camp. I chose to do the latter, which included a downward trek, and then a road journey to the base camp. Both the groups ended up reaching at pretty much the same time. After reaching there and pitching our tents once again, around afternoon let's say at 4:30-ish it started to rain( it is common in those places to rain a lot), which didn't stop pretty much rest of the trip. After it got a little dark, say around 7 PM we went to the fireplace where we could dry our clothes up. We called it an early night as our next trek, the main one, the Chandrashila trek was going to begin around 3:30 AM.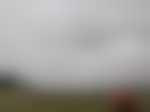 The view from our Chandrashila base camp
I just had one concern- It didn't stop raining.
Day 5:
Around 3 we were woken up to get ready and also to mentally prepare ourselves for the 6 KM trek. I had to fight my urge to giving it up and going back to sleep. But then, not wanting to give up and coming on the trip with the determination of completing the trek, made me get out of my sleeping bag, eat oats and start my trek. This trek tested my will live in every way.
It was raining cats and dogs
It was pitch dark
I still had zero stamina or probably 0.001%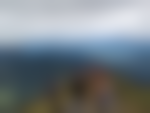 Pretty much out of breath here with Umesh Bhaiyya
Did I mention it was raining reaaaalllly hard and I had to trek my way up a mountain? Out of curiosity, I asked the tour guide, Umesh Bhaiyya if there are any accounts of deaths on this trek. His reply to that was- "Not that I know of", to which I thought I'd definitely be the first one. I am a super clumsy girl who trips on flat surfaces wearing flats. To me, the journey ahead was a deadly one and I did happen to trip a lot. I lost the count of how many times. As the ascend to the peak began, with every step I took I was contemplating my decision of coming for the trek. But then, there was this particular mountain dog that shadowed me throughout the trek. Slowly, after gasping for every breath in me, after slowing down and taking close to a dozen(s) breaks I reached there. I finally made it to the peak and every ounce of struggle was worth it for the view was splendid. It was as calm as it can get. It was just beautiful. I reached the peak around 9:12. I remember the exact time when I was 13,000 feet(4000m) above sea level.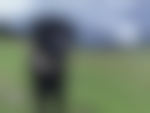 The descent was comparatively easier and a lot less struggle and will-to-live testing. The view was still pretty nonetheless. Now we slowly geared ourselves up for going back to hustle and bustle of our everyday life. The 5 days of staying away from civilization were a memory of a lifetime. Everything from living in tents, sleeping in sleeping bags, using dry toilets to knowing new people, their life stories and having basic food. Everything that happened on the trip is something I'll carry around with me.
We want to acknowledge and thank the past, present, and future generations of all Native Nations and Indigenous Peoples whose ancestral lands we travel, explore, and play on. Always practice Leave No Trace ethics on your adventures and follow local regulations. Please explore responsibly!
Do you love the outdoors?
Yep, us too. That's why we send you the best local adventures, stories, and expert advice, right to your inbox.